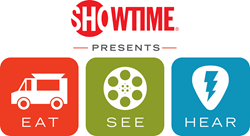 We know we've turned so many people onto the wonderful work that Best Friends does when we talk to them at our events each week. We're very excited to continue working together and making LA a no kill city
Los Angeles, California (PRWEB) July 22, 2015
LA outdoor movie, food truck and live music event series Eat|See|Hear has raised $20,000 in ticket sale donations for non-profit partner Best Friends Animal Society – Los Angeles (BFAS-LA). BFAS-LA aims to expand the no-kill movement for homeless animals across the country; over the last several years the organization has drastically reduced the number of animals that are put down every year by 123 percent.
Eat|See|Hear launched its outdoor movie event series in the summer of 2012. Owners Sharon Sperber and Jeff Sperber had learned about the animal welfare society taking over a Los Angeles city shelter, and contacted BFAS outreach manager Candi Crawford. "Candi and other volunteers came out to our event and helped raise money and promote awareness about the organization. We immediately discussed coordinating a bigger partnership with Best Friends Animal Society-Los Angeles and we've been working collaboratively ever since," says Sharon Sperber, co-owner of Eat|See|Hear and Trailhead Marketing. "We have been supporters of the national organization in Utah for nearly 20 years and were thrilled that they came to Los Angeles working towards making LA a no kill city. We were hooked on this local mission and pleased that we can help spread the word to our audience."
In 2013, Eat|See|Hear donated $3,500 in addition to a supply drive, which resulted in multiple trunk-loads of blankets, towels, food, leashes, paper towels and other items on BFAS-LA's wish list. In 2014, Eat|See|Hear donated an additional $15,000 to BFAS-LA and the No Kill Los Angeles (NKLA) initiative, in addition to another supply drive collecting many more needed items.
Additionally, Eat|See|Hear and BFAS-LA partnered on their annual Strut Your Mutt charity dog walk, which raised more than $600,000 to save the lives of homeless animals in Los Angeles. Eat|See|Hear and BFAS-LA also piloted a program called "Rent-A-Mutt" at one of their events, allowing movie-goers to spend the evening with an adoptable dog from BFAS-LA. This event sold out immediately and helped contribute to the adoption of more pets in LA. Moreover, prior to every outdoor movie screening, Eat|See|Hear shows one or two BFAS-LA/NKLA videos, which over the course of two seasons, have educated over 100,000 Angelenos about the mission to give adoptable pets a good home.
"We are animal people, loving dogs, cats and all creatures just the same, which is why we love Best Friends Animal Society so much," says Sperber. "We know we've turned so many people on to the wonderful work that Best Friends does when we talk to them at our events each week. We're very excited to continue working together and making LA a no kill city so that there are no more homeless pets in the near future!" Please visit http://la.bestfriends.org/ to learn more about Best Friends Animal Society-Los Angeles.
About Eat|See|Hear
Voted "Best Outdoor Movie Series" by Los Angeles Magazine in 2014, the Eat|See|Hear outdoor movie, food truck and live music series brings an evening of fun to Los Angeles-area venues each summer. The fourth annual series is presented by SHOWTIME NETWORKS, featuring up-and-coming bands from the local music scene, the hottest food trucks and the largest inflatable movie screen on the west coast with the highest quality HD-projection with a 52-foot wide image and professional sound. Eat|See|Hear promises an enjoyable movie-going experience for everyone, including dogs. Each event and is produced by LA-based Trailhead Marketing, Inc. For more information visit http://eatseehear.com.