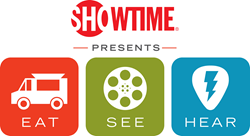 All donated items will be forwarded to Best Friends Animal Society-Los Angeles, and will be used to care for homeless dogs and cats in the LA area
Los Angeles, Calif. (PRWEB) July 22, 2015
Eat|See|Hear, LA's premier outdoor movie in the park, food truck and live music event series, will be in Santa Monica on Saturday, July 25, to host its 3rd annual "Christmas in July" celebration. The event will take place at Santa Monica High School's Memorial Greek Amphitheater, located at 601 Pico Blvd.
The main attraction for the evening will be the showing of the Christmas-themed romantic comedy, Love Actually. Starring Hugh Grant, Liam Neeson, Colin Firth, Bill Nighy, Emma Thompson and Keira Knightley, the film follows the lives of eight loosely-related couples in London, England, during the five weeks preceding Christmas. Showtime is at 8:30 p.m.
Other highlights for the evening include a visit by real bearded Santas and a donation drive for Eat|See|Hear's non-profit partner, Best Friend Animal Society-Los Angeles.
Those attending this event are asked to bring donations of paper towels, heavy-duty garbage bags, small clip collars, six-foot clip leashes, doggie waste bags, plastic crates, dry kitten food, gas gift cards or old blankets and towels.
"All donated items will be forwarded to Best Friends Animal Society-Los Angeles, and will be used to care for homeless dogs and cats in the LA area," says Sharon Sperber, co-owner of Eat|See|Hear. "Best Friends Animal Society-Los Angeles is nonprofit organization that works collaboratively with animal rescue groups and city shelters working to help Save Them All in Los Angeles by 2017. We're hoping to provide them with a lot of support through this annual donation drive."
Doors to the event will open at 5:30 p.m. to allow movie goers plenty of time to choose their seats and get something to eat before the movie starts. A wide variety of food trucks will be on site, including Baby's Badass Burgers, Brasil Kiss, Crepe de Ville, Coolhaus, Mangia Ristorante, No Jodas Kitchen, Oh My Gaga, Phantom, Pizza & Co, Slangin Corea, Street Foods Co., Tainamite, The Lobsta Truck, Peaches Smokehouse BBQ and more. Food trucks will be open for business at 5:30 p.m.
At 7:30 p.m., The Neighbors, an LA-based folk rock band, will take the stage. They will be performing their unique blend of folk, blues, R&B, jazz and bluegrass which they call "neighborly music." It is sure to be a lively and energetic performance.
As is true for every Eat|See|Hear event, movie-goers are welcome to bring their dogs with them to the event. Pet owners are asked to bring water and water bowls, dog treats, and waste bags to keep their furry friends happy during the show and clean up after them.
Because this venue is an amphitheater with concrete seating, "You should bring either a blanket or some cushions or pillows to sit on so you can be more comfortable," Sperber suggests. "It's also a good idea to bring jackets, or extra blankets to wrap up in keep warm. It may be Southern California, but even if it's in the 90s during the day, it can still get chilly at night."
Parking available at the Civic Center Parking Structure, located at 333 Civic Center Drive, for a flat fee of $5. This structure is across the street from the high school. Movie goers are asked to enter the amphitheater through the walkway on 4th Street, between the track and the DoubleTree Hotel.
Tickets can be purchased online or at the door. General admission tickets are $12 each for adults ($14 at the door), $8 for children under 12 years old, and free for children 5 and under.
"Buying your tickets in advance is the way to go, because you will automatically be entered to win a R/T flight to Auckland, courtesy of Air New Zealand," says Sperber.
In addition to general admission tickets, a limited number of "Air New Zealand Fashionably Late" passes are available for purchase in advance at the Eventbrite website, granting seating in a reserved area, regardless of arrival time.
For further information about Eat|See|Hear's "Christmas in July" event featuring Love Actually, visit eatseehear.com.
About Eat|See|Hear
Voted "Best Outdoor Movie Series" by Los Angeles Magazine in 2014, the Eat|See|Hear outdoor movie, food truck and live music series brings an evening of fun to Los Angeles-area venues each summer. The fourth annual series is presented by SHOWTIME NETWORKS, featuring up-and-coming bands from the local music scene, the hottest food trucks and the largest inflatable movie screen on the west coast with the highest quality HD-projection with a 52-foot wide image and professional sound. Eat|See|Hear promises an enjoyable movie-going experience for everyone, including dogs. Each event and is produced by LA-based Trailhead Marketing, Inc. For more information visit http://eatseehear.com.