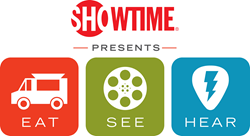 Clueless is celebrating its 20th anniversary this summer, and the movie is as relevant today as it was 20 years ago.
Los Angeles, Calif. (PRWEB) August 04, 2015
Los Angeles outdoor movie, food trucks and live music event series Eat|See|Hear continues this Saturday evening, August 8, in Pasadena with a screening of the 1995 iconic comedy, Clueless (PG-13). The event will be held at Pasadena City Hall's Centennial Square, located at 100 N. Garfield Avenue. Showtime is at 8:30 p.m.
"Clueless is celebrating its 20th anniversary this summer, and the movie is as relevant today as it was 20 years ago," says Sharon Sperber, co-owner of Eat|See|Hear. "The storyline and coming-of-age issues addressed in the film are timeless."
Clueless stars Alicia Silverstone who plays Cher Horowitz, a pretty, popular and spoiled high school student from Beverly Hills. When Cher can't persuade her teacher to give her a better grade, she and her best friend Dionne (Stacey Dash) match him up with another teacher to make him happier and hopefully boost her grade. Inspired by their success at matchmaking, the two girls then take a "clueless" transfer student named Tai under their wings, giving her a makeover to help her find a boyfriend. When Tai becomes more popular than she is, Cher learns a lot about herself, and what it means to truly care about others.
Doors open at 5:30 p.m. "It's a good idea to get there early so you can claim your spot," Sperber suggests. "This location is concrete with some grassy areas, so you should bring pillows, cushions and blankets so you can be comfortable. Low chairs are also allowed, but please don't block the view of the people behind you. If you want to sit on a lawn or camping-style chair that it over 6 inches off the ground, you will need to sit on the left or right side of the venue, which will be clearly marked with signs."
At 7:30 pm, the LA-based indie band,Valley Queen, will take the stage. Founded in 2014, the band is a hybrid of southern rock and motown, and features Natalie Carol as the lead vocalist, Neil Wogensen on bass, Shawn Morones on the guitar and Gerry Doot on the drums.
Some of LA'S best food trucks will be on hand, including Alegria Food Truck, Belly Bombz, Brasil Kiss, Coolhaus, Grilled Cheese Truck, Homeboy Industries, Hungry Nomad, Rice Balls of Fire, Son of a Bun, The Lobos Truck, The Schmuck Truck, Coolhaus and Brasil Kiss. Food vendors will be open for business at 5:30 p.m.
For those who are driving to the event, there are a several fee parking lots in the area, along with street parking. Movie-patrons can also take the Metro Gold Line to Memorial Park Station. From there, it's just short walk to Old Town Pasadena and City Hall. "Please enter on North Marengo Avenue at Holly Street, as this is the only entrance to the event," Sperber says.
Tickets can be purchased at the door or in advance at http://www.eventbrite.com/e/eat-see-hear-clueless-outdoor-movie-tickets-16367657103. General admission tickets are $12 each for adults ($14 at the door), $8 for children under 12 years old, and free for children 5 and under.
"Buying your tickets in advance is the way to go, because you will automatically be entered to win a R/T flight to Auckland, courtesy of Air New Zealand," says Sperber.
In addition to general admission tickets, a limited number of "Air New Zealand Fashionably Late" passes are available for purchase in advance at the Eventbrite website, granting seating in a reserved area, regardless of arrival time.
For further information about Eat|See|Hear's Clueless showing, visit eatseehear.com. Don't miss your chance to see this timeless comedy on the Eat|See|Hear big screen!
About Eat|See|Hear
Voted "Best Outdoor Movie Series" by Los Angeles Magazine in 2014, the Eat|See|Hear outdoor movie, food truck and live music series brings an evening of fun to Los Angeles-area venues each summer. The fourth annual series is presented by SHOWTIME NETWORKS, featuring up-and-coming bands from the local music scene, the hottest food trucks and the largest inflatable movie screen on the west coast with the highest quality HD-projection with a 52-foot wide image and professional sound. Eat|See|Hear promises an enjoyable movie-going experience for everyone, including dogs. Each event and is produced by LA-based Trailhead Marketing, Inc. For more information visit http://eatseehear.com.