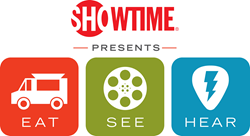 Since this venue is a grassy lawn, movie goers should bring pillows, cushions and blankets to sit on during the show
Los Angeles, Calif. (PRWEB) August 18, 2015
Presented by Showtime Networks, Eat|See|Hear, LA's original traveling outdoor movie series, will be showing the classic favorite John G. Avildsen film The Karate Kid, on Saturday, August 22. This event will be held at La Cienega Park in Beverly Hills, located at 8400 Gregory Way in Beverly Hills. Showtime is at 8:30 p.m.
Described by VOGUE Magazine as a way for Angelinos to "indulge all five senses," Eat|See|Hear combines multiple outdoor events into one: a movie, music, picnic and "chill time" with friends.
Give your palate the reward of a delicious creation from the participating food trucks: Street Kitchen, Good Greek Grub, The Gastrobus, The Urban Oven, The Deli Doctor, Slumming Gourmet, Say Fish Taco, Creative Eats, Cousins Maine Lobster, Smokin Willies BBQ, Hurricane Kitchen, Mangia Ristorante, Dog Saigon, Walf, and Coolhaus and Brasil Kiss. Food trucks will be on site ready to serve you when doors open at 5:30 p.m.
Originally released in 1984, The Karate Kid tells a tale of a martial arts master who agrees to teach a bullied boy karate and show him there is more to martial arts than fighting. This action-packed drama is Rated PG, and stars Ralph Macchino, Pat Morita and Elisabeth Shue.
The event will also feature live music by Michigan native, Topher Mohr. After touring the world with artists such as Mayer Hawthorne and Alice Smith, Mohr decided to head to Los Angeles as a solo artist with the release of his second studio album, Phlotilla. Music begins at 7:30 p.m.
"Since this venue is a grassy lawn, movie goers should bring pillows, cushions and blankets to sit on during the show," suggests Sharon Sperber, co-owner of Eat|See|Hear.
Also, bring your furry friend. Eat|See|Hear is LA's most dog-friendly event series. "Leashed, friendly dogs are always welcomed with a free biscuit at the entrance and water bowls all around," Sperber says.
Tickets can be purchased at the door or in advance at http://www.eventbrite.com/e/eat-see-hear-the-breakfast-club-outdoor-movie-tickets-16373232780. Prices for general admission are $12 ($14 at the door), kids 5 to12 years old are $8, and kids under 5 are free.
In addition to general admission tickets, a limited number of "Air New Zealand Fashionably Late" passes are available for purchase in advance at the Eventbrite website, granting seating in a reserved area, regardless of arrival time. Everyone who purchases advanced tickets will be automatically entered to win a round trip flight to New Zealand, courtesy of Air New Zealand.
Doors open at 5:30 p.m. Please enter on Gregory Way, as this is the only entrance. In addition to hourly fee parking lots, there is a limited amount of complimentary parking spaces available at the tennis center across the street from the park at 321 S La Cienega. Make sure to give yourself enough time to find a parking space.
For further information about Eat|See|Hear's The Karate Kid showing, visit eatseehear.com. Don't miss your chance to see this karate kicking drama on the Eat|See|Hear big screen!
About Eat|See|Hear
Voted "Best Outdoor Movie Series" by Los Angeles Magazine in 2014, the Eat|See|Hear outdoor movie, food truck and live music series brings an evening of fun to Los Angeles-area venues each summer. The fourth annual series is presented by SHOWTIME NETWORKS, featuring up-and-coming bands from the local music scene, the hottest food trucks and the largest inflatable movie screen on the west coast with the highest quality HD-projection with a 52-foot wide image and professional sound. Eat|See|Hear promises an enjoyable movie-going experience for everyone, including dogs. Each event and is produced by LA-based Trailhead Marketing, Inc. For more information visit http://eatseehear.com.