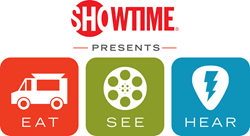 Los Angeles, Calif. (PRWEB) August 26, 2015
Presented by Showtime Networks, Eat|See|Hear, LA outdoor movie series , will be showing the Quentin Tarantino classic film Reservoir Dogs on Saturday, August 29. This event will be held at The Autry in Griffin Park, located at 4700 Western Heritage Way. Showtime is at 8:30 p.m.
Simply "sit under the stars for a night of entertainment, live music and food trucks," states the Los Angeles Times. Eat|See|Hear combines multiple outdoor events into one: a movie, music, picnic and "chill time" with friends.
Give your palate the reward of a delicious creation from the participating food trucks: Steel City Sandwich, CJs Wings, White Rabbit, Sista Soul Food, Postcards CAS, Phantom, Kimbobrex, India Jones, Haute Burger, VCHOS, Peaches Smokehouse BBQ, Mandoline Grill, Chanchos Tacos, My Delight Cupcakery, Coolhaus and Brasil Kiss. Food trucks will be on site and ready to serve movie goers when doors open at 5:30 p.m.
What happens when six criminals who are strangers to each other are hired by a crime boss to carry out a diamond heist? Reservoir Dogs, the Quentin Tarantino classic, takes six criminals with multi-colored pseudonyms and makes them question each other's identity. Are they true criminals, or is one of them an undercover cop? This crime-packed drama is Rated R, and stars Harvey Keitel, Tim Roth, and Michael Madsen.
The event will also feature live music by Santa Monica's very own: Opus Orange. Formed in 2010 with Paul Bessenbacher at the helm, the band's multi-faceted music is best represented in its name: "Opus" is a reference to Chopin's melodies, "Fantaisie Impromptu" and "Opus 66," and "Orange" is a reference to Charles Mingus' song, "Orange Was The Color Of Her Dress." Music begins at 7:30 p.m.
"Since this venue is a grassy lawn, movie goers should bring pillows, cushions and blankets to sit on during the show," suggests Sharon Sperber, co-owner of Eat|See|Hear.
Also, bring your furry friend. Eat|See|Hear is LA's most dog-friendly event series. "Leashed, friendly dogs are always welcomed with a free biscuit at the entrance and water bowls all around," Sperber says.
Tickets can be purchased at the door or in advance at http://www.eventbrite.com/e/eat-see-hear-reservoir-dogs-outdoor-movie-tickets-16373262870. Prices for general admission are $12 ($14 at the door), kids 5 to12 years old are $8, and kids under 5 are free.
In addition to general admission tickets, a limited number of "Air New Zealand Fashionably Late" passes are available for purchase in advance at the Eventbrite website, granting seating in a reserved area, regardless of arrival time.
Doors open at 5:30 p.m. To enter, please use the main entrance adjacent to the Autry Museum building on the event lawn. Free parking is available across the street at the LA Zoo. Movie goers can also bike in.
For further information about Eat|See|Hear's Reservoir Dogs showing, visit eatseehear.com. Don't miss your chance to see this crime drama on the Eat|See|Hear big screen!
About Eat|See|Hear
Voted "Best Outdoor Movie Series" by Los Angeles Magazine in 2014, the Eat|See|Hear outdoor movie, food truck and live music series brings an evening of fun to Los Angeles-area venues each summer. The fourth annual series is presented by SHOWTIME NETWORKS, featuring up-and-coming bands from the local music scene, the hottest food trucks and the largest inflatable movie screen on the west coast with the highest quality HD-projection with a 52-foot wide image and professional sound. Eat|See|Hear promises an enjoyable movie-going experience for everyone, including dogs. Each event and is produced by LA-based Trailhead Marketing, Inc. For more information visit http://eatseehear.com.
Contact:
Sharon Sperber
sharon(at)trailheadmarketinginc(dot)com