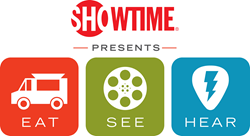 Leashed, friendly dogs are always greeted with a free biscuit at the entrance and water bowls all around
Los Angeles, Calif. (PRWEB) September 01, 2015
Presented by Showtime Networks, Eat|See|Hear, LA's original traveling outdoor movie series, will be showing the cult classic, Fight Club, on Saturday, September 15. This event will be held at the Autry National Center, located at 4700 Western Heritage Way in Griffith Park. Showtime is at 8:30 p.m.
Considered by IMDb as one of the 10 best psychological thrillers of all time, Fight Club tells the story of an insomniac office worker and a slippery soap salesman who start an underground club where bored men can fight each as a way to channel male aggression. Their concept catches on, with "fight clubs" forming in every town, until an eccentric gets in the way and ignites a psychological frenzy. This movie is rated R, and stars Brad Pitt, Edward Norton, and Helena Bonham Carter.
The evening will also feature live music by alternative band Kin Cayo. This eclectic band lives up to its name, which means "family of small islands." The group's tropical post-punk sound evokes an idyllic island environment, both in rhythm and melody. Music begins at 7:30 p.m. Doors open at 5:30 p.m.
"Since this venue is a grassy lawn, movie goers should bring pillows, cushions and blankets to sit on during the show," suggests Sharon Sperber, co-owner of Eat|See|Hear. "Low-back beach chairs are also okay to sit on, but should sit no more than six inches off the ground so you don't block the view of the people sitting behind you."
Plenty of food trucks will be on hand, including Wings N Waffles, Rushed Art, Creative Eats, Farmers Belly, Oh My Gaga, Asian Cravings, Surfer Taco, Coolhaus and Brasil Kiss. Food trucks will be open for business at 5:30 p.m.
As is true for every Eat|See|Hear event, movie-goers are welcome to bring their dogs. "Leashed, friendly dogs are always greeted with a free biscuit at the entrance and water bowls all around," Sperber says. Pet owners are asked to bring waste bags and pooper scoopers to clean up after their animals.
Tickets can be purchased at the door or in advance at http://www.eventbrite.com/e/eat-see-hear-fight-club-outdoor-movie-tickets-16373297975. Prices for general admission are $12 ($14 at the door), $8 for children under 12 years old, and free for children 5 and under.
In addition to general admission tickets, a limited number of "Air New Zealand Fashionably Late" passes are available for purchase in advance at the Eventbrite website, granting seating in a reserved area, regardless of arrival time.
Movie patrons can park for free in the Los Angeles Zoo parking lot, which is across the street from the Autry. Please enter through the main entrance adjacent to the Autry Museum building on the event lawn.
For further information about Eat|See|Hear's Fight Club showing, visit eatseehear.com. Don't miss your chance to see this psychological drama on the Eat|See|Hear big screen!
About Eat|See|Hear
Voted "Best Outdoor Movie Series" by Los Angeles Magazine in 2014, the Eat|See|Hear outdoor movie, food truck and live music series brings an evening of fun to Los Angeles-area venues each summer. The fourth annual series is presented by SHOWTIME NETWORKS, featuring up-and-coming bands from the local music scene, the hottest food trucks and the largest inflatable movie screen on the west coast with the highest quality HD-projection with a 52-foot wide image and professional sound. Eat|See|Hear promises an enjoyable movie-going experience for everyone, including dogs. Each event and is produced by LA-based Trailhead Marketing, Inc. For more information visit http://eatseehear.com.
Contact:
Sharon Sperber
sharon(at)trailheadmarketinginc(dot)com