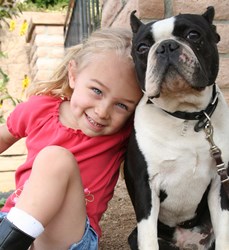 LaPaws classes are essential training for dog owners who are expecting a baby.
Escondido, California (PRWEB) November 29, 2013
Parents who are expecting a bundle of joy to expand their loving family can sign up for LaPaws dog training classes at K9 Dog Park to insure peace and safety at delivery – whether the bundle is a new baby to join the family "pack" or a new pet that will meet a toddler in the house.
The four-week LaPaws program, the canine counterpart to childbirth-preparation Lamaze classes, was developed by certified dog trainer Penny DiLoreto, owner of K9 Dog Park.
"I created LaPaws because whether families are expecting their first child or already have a toddler at home, it's important that the environment is safe and the dog shows restraint and manners around small children," DiLoreto said. "You are bringing the newborn into an existing 'pack' – if you have a dog at home, you are a member of that dog's pack as far as the dog is concerned. How do you introduce an infant human member into the pack? That's part of what we teach in LaPaws."
LaPaws training can help families who have a dog and are expecting a child, families who have a toddler and are adding a dog, and families with both a child and a dog who doesn't behave properly around the little human. Family pets participate in the training.
Classes start in January and cost $240 per family.
About K9 Dog Park
K9 Dog Park in Escondido, CA, the leading dog training and grooming center in southern California. The certified professionals have pioneered advanced training techniques for dogs and their owners, including Therapy Dog, Service Dog, BAT-Behavior Adjustment, Problem Solving, Agility, Rally, AKC-STAR Puppy, AKC-Canine Good Citizen, LaPaws for families with small children, Snake Avoidance, Trick and others in its indoor training facility. The company also offers dog grooming for all breeds.
If you have any questions regarding information in these press releases please contact the company listed in the press release. Our complete disclaimer appears here.
Contact Information
Penny or David DiLoreto
K9 Dog Park
http://www.K9DogPark.com
(760) 745-3647