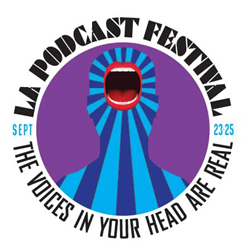 The Voices in Your Head Are Real
Beverly Hills, CA (PRWEB) July 27, 2016
Los Angeles Podcast Festival 2016 (aka LA Podfest 2016), featuring live recording sessions of dozens of popular podcasts, panel discussions, parties, a podcast lab, and stand-up comedy, will take over Sofitel Los Angeles at Beverly Hills (8555 Beverly Blvd, Los Angeles, CA 90048) from Friday, September 23 to Sunday, September 25, 2016. This year's festival, organized by founders Dave Anthony, Graham Elwood, and Chris Mancini, will unite roughly 2,100 attendees, including popular podcasters, their celebrity guests, fans from across the globe, and the podcasting industry, in celebration of the thriving medium. While the podcasters recording their shows live at the festival are traveling from as far away as Australia and New Zealand, roughly 75% of the shows featured in the festival are based in Southern California, generally considered ground zero for the industry, with many of the most popular shows originating in Los Angeles. See the 34 confirmed podcasts (at press release time) participating in this year's festival. Additional information can be found at http://www.lapodfest.com and the Facebook Event Page.
Tickets range in price for 3-Day Tickets ($139 + fees) to single day tickets ($49-$69 + fees). A Live Stream is available for $25.00 + fees – good for up to 30-days starting opening day of the event. Specially discounted rooms at the Sofitel can be booked at lapodfest.com.
"People should care about podcasting, which has risen from relative insignificance a decade ago into arguably the most exciting technology on the media landscape today, because it is the final frontier of completely uncensored communication," says Anthony. "For the last four years at our festival, the very first to unite podcasts in front of a live audience, we have completely removed all filters between the artists and fans, with artists giving their work directly to fans in a very personal way."
The Festival: Yesterday & Today –
LA Podfest's vibe is akin to a comedy festival merged with a fan-based event like Comic-Con with all live shows – a "comedy podicon," if you will. It has seen steady growth over the past 5 years. In addition to increasingly expanding the scope of the event into new podcasting genres, the 2016 edition of the festival is also planning for a bigger audience and more panel discussions.
While the festival has always been comedy-centric, additional podcast genres have been added to the roster each year, with the festival now also including true crime, gaming/nerd culture, sports, news, music, pop culture, mental health, history, science, storytelling, and politics offerings. Panel discussions focus on skills and topics relevant to podcasters at all levels for them to learn about various aspects of podcasting. A special stand-up comedy show, held this year on Saturday, September 24th, is also one of the weekend's highlights.
In its first four years, the Los Angeles Podcast Festival staged over one hundred podcasts including Comedy Film Nerds, American Public Media's Dinner Party Download, The Dollop, The Dork Forest, Doug Loves Movies, Girl on Guy with Aisha Tyler, improv4humans, The Indoor Kids, Jordan, Jesse, Go!, The JV Club, Keith and The Girl, The Mental Illness Happy Hour, Never Not Funny, Pop My Culture, RISK!, The Smartest Man in the World, HowStuffWorks' Stuff You Should Know, Superego, Thrilling Adventure Hour, The Todd Glass Show, TOFOP, Welcome to Night Vale, Who Charted?, and WTF with Marc Maron. Each year, participating podcasters often do very special, innovative shows at the festival – many trying to outdo each other for the annual occasion. Please see list of confirmed 2016 podcasters below this press release.
Numerous celebrity guests also join the podcasters on stage every year. Past festivals have attracted numerous high-profile names including Maria Bamford, Dave Foley, Zach Galifianakis, Colin Hanks, Joey McIntyre, Patton Oswalt, Sarah Silverman, and many others.
"My favorite aspect of podcasting, as well as the yearly festival itself, is in the creation of community; the connections made between fans as well as the relationships generated between the podcasters, their special guests, and the audience are simply not found in any other medium," says Mancini.
"In general, the podcasters and their guests communicate in a much more informal and personal manner on these shows… plus, on the other end, fans generally listen on ear buds, which is also incredibly intimate with the podcasters talking directly into their ears…. and they are also often given unprecedented access to interact with the shows," continues Elwood. "Podcasts have literally saved people's lives, including a number of depressed and suicidal folks, who said podcasting helped them through dark times … and two podcast fans from San Diego even got engaged at the festival two years ago."
About Los Angeles Podcast Festival (LA Podfest) –
Los Angeles Podcast Festival, the premier live podcasting event in the world, brings together the biggest names in podcasting for a weekend-long blowout in Los Angeles, ground zero for the medium where many of the top shows are based. The annual festival unites podcasters, their special guests, fans, and the podcasting industry to celebrate all things podcasting. Launched on Kickstarter five years ago as a comedy-centric festival, over the years, the growing event has expanded to include a wide-range of additional podcast genres.
The festival, created by podcasters for the podcasting community, is currently produced by founders Dave Anthony (The Dollop), Graham Elwood (Comedy Film Nerds), and Chris Mancini (Comedy Film Nerds). In addition to collaborating on the festival and their podcast, Elwood and Mancini also collaborated on the podcasting documentary, Ear Buds, which explores the unique and personal connection between podcasters and their fans. The film, which features footage from the festival and interviews with some of the biggest names in the medium, is currently on the film festival circuit.
# # #
For more information, photos, to schedule an interview, or request press tickets, please contact Green Galactic's Lynn Tejada at 213-840-1201 or lynn(at)greengalactic(dot)com.