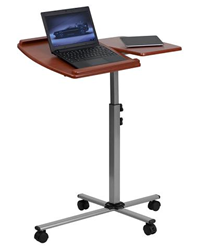 Laptop desks keep paperwork and electronics alike together and in place, allowing them to be moved entirely across the house without being disrupted.
(PRWEB) September 09, 2013
HomeThangs.com – the Online Home Improvement Store – has made their goal to deliver the right product to the consumer. With that in mind, shopping and home design tips, as well as special product selections are being introduced.
These days, it's not uncommon for any given person to have multiple electronic devices – a laptop, a desktop computer, a smartphone, tablet, and e-reader – and use them all on a daily basis both for work and play. Unfortunately, not everyone has the space to dedicate to a full sized desk. HomeThangs.com is proud to announce that they've begun carrying a full line of compact, portable laptop desks, which can help streamline device usage for the average person.
Laptop desks are ideal for more casual computer users, not the least because they're small. Ultra compact laptop desks offer the ergonomics of a full sized computer desk but do it in a much, much smaller space. The laptop desks from Flash Furniture range from 20-40 inches high with a 20-30 inch wide work surface, and are almost all highly adjustable, with a flexible height and in many cases collapsible desktops that fold flat for easier storage.
In addition to folding to a smaller size for storage, many of HomeThangs' new laptop desks can also be adjusted for comfort of use, with desktops and mouse rests that can be tilted independently. In conjunction with adjustable table heights, this makes for a desk that can be used with a variety of different types and heights of chairs. They can also help improve posture by keeping the screen, keyboard, and mouse at comfortable angles personalized to the user.
Many of the laptop desks HomeThangs now offers are also mounted on wheels, offering a greater level of mobility. This allows the desk not only to be easily moved in and out of storage, but also creates a more flexible work space that can be quickly and efficiently moved without disrupting anything on the desktop.
Breakfast tray style laptop desks allow laptops to be used in bed or on the sofa, but keep the laptop off the actual lap, promoting air circulation and preventing the laptop from becoming overheated. Some models even come with built in cooling fans, which can reduce or even eliminate the problem of uncomfortably warm laptop computers.
Many of HomeThangs' new laptop desks are designed for utility. But many of them are quite decorative as well, and fit beautifully into an existing living space. These are often designed to look like a standard modern side table, but pull over the edge of the sofa to create a simple but sturdy workstation.
To learn more about the advantages and features of laptop desks, read HomeThangs' guide to laptop desks here.
HomeThangs.com is not only a home improvement superstore, it also provides expert design tips and a comprehensive shopping guide, taking the ideas from professional interior designers, and offering tips to the consumers on how to pick the products to best suit their needs.