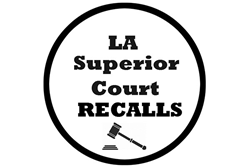 I never imagined when I rented out a defective condo in Westlake Village, CA that one year later I would be a self-represented plaintiff...
LOS ANGELES (PRWEB) November 07, 2019
As a resident of LA County, how much does one really know about their judges? It would be fair to say…not much. Come March 3, 2020, 188 judges are up for reelection with a majority of them running unopposed. Subsequently they will slide right into another 6 years of alarming rulings and questionable conduct, especially towards self-represented litigants. In fact, over 75% of all litigants in California are self-represented.
Instead of litigants and lawyers posting anonymously on therobingroom.com expressing their disdain for judges, Shelly Hart, a prevailing self-represented plaintiff, decided to take it to the next step and actually do something to get judicial reform - and that is how LARecalls was born.
"I never imagined when I rented out a defective condo in Westlake Village, CA that one year later I would be a self-represented plaintiff, but it happened and it opened my eyes to the dysfunction that lies in our courts, and how certain judges just do not deserve to be on the bench. We need public awareness and the voters need to learn more about our judges."
Most voters in Los Angeles have absolutely no idea who their judges are until they appear in front of them. "If they don't like you or are bias - that's it. You will lose your motions (regardless of Rules of Court and precedent), you will be scolded and or even worse, sanctioned," said Shelly.
Because of this, LARecalls is actively looking for courageous and ethical lawyers to oppose not only the judges listed on LARecalls.com, but many of the 188 judges who are up for reelection and who will also appear on the ballot in March 2020. The deadline is December 6, 2019.
Lawyers should not fear retribution for seeking out a judgeship. "I spoke to several lawyers and district attorneys and they each said they are too afraid to oppose the judges as if they lose, their careers would be over," said Shelly. That is why the lawyers currently running for judgeships are only seeking open seats.
If a mayor, governor & president can face hard opposition, why can't a judge? LARecalls finds it troubling that 250 LA Superior Court judges actually formed a PAC to raise funds for any judge who will face opposition in March. "They truly believe they are entitled to sit on the bench for life," says Shelly. And with there being little to no oversight by the Commission on Judicial Performance (https://www.senate.ca.gov/media/joint-hearing-joint-legislative-audit-committee-senate-assembly-judiciary-committees-20190612/video), the only way to stop it, is through public awareness and lawyers mustering up the courage to oppose them.
To learn more, and or support LARecalls, you can visit their website at LARecalls.com
You can also keep up with LARecalls on Facebook @LARecalls..