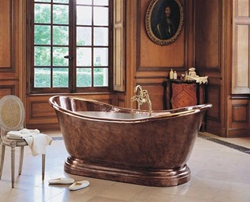 Decorative freestanding tubs oro drop in tubs with custom designed mounts are hefty enough to hold their own, while emphasizing the grand, sweeping size of a very large bathroom.
(PRWEB) May 19, 2014
HomeThangs.com – the Online Home Improvement Store has made their goal to deliver the right product to the consumer. With that in mind, shopping and home design tips, as well as special product selections are being introduced.
In a small bathroom, there's rarely more than one place to put a bathtub. But bigger bathrooms make it possible to get a little more creative and turn even a basic bath into a show stopping statement piece. For those who have a little space to spare, HomeThangs.com has introduced a guide to six creative ways to install a bathtub in a bigger bathroom.
The bigger the bathroom, the more room the bathtub has to breathe, and simply moving the tub away from the walls, even just a little bit, can totally change the look and feel of the space. Simply swapping from a built in tub to a freestanding one will do the trick, but more elaborate changes, like installing the tub at an angle or decorating the area around it can turn even a basic tub into something much more artistic.
In a very large bathroom, it's even possible to install the bathtub directly in the middle of the room. Rerouting the plumbing to accommodate this unconventional placement will require a little more construction, but in a sufficiently large bathroom, a freestanding bathtub can make a stunning centerpiece. Decorative freestanding tubs or drop in tubs with custom designed mounts are hefty enough to carry the weight of the space and emphasize the grand, sweeping size of a very large bathroom, but aren't so big that they'll crowd the bathroom or block movement.
In-floor tubs have a similarly grand look and feel but won't take up as much space visually. This is another slightly more labor intensive design choice, as the tub will be installed directly into the floor, but the final look is really worth it: a step-in, pool-like lagoon that can add a lovely natural touch to the bathroom.
For a truly decadent bathing experience, consider installing a freestanding bathtub directly inside a large, open shower. Extra care should be taken to ensure everything is adequately waterproofed and drained, but this is about the most immersive and over the top way to bathe: with a rainfall showerhead sprinkling down from above and the bathtub filled to overflowing. It also makes for a really large and impressive shower stall.
A large soaking tub can also be used as a sort of barrier between the bathroom and the bedroom in a master suite with an open floor plan. This setup isn't for the shy or faint of heart, as there will be little or no division between sleeping and bathing spaces, but placing a large tub front and center this way has a very luxurious, hotel-like style that's really starting to catch on. This layout can work in a slightly smaller space because the removal of the wall that separates the bedroom and the bathroom opens up the room, but it's important to choose a tub that's big enough for two to enhance the romantic feel of this setup.
Last but not least, having a little more room to work with means more room to be picky about bathtub placement. Rather than settling for a space that works, choose one that really looks great, like the classic garden tub – that is, installing a large soaking tub directly beneath a window or in the bumped-out space created by a bay window. The combination of sunlight and a view make for a really relaxing bath in a space that can be problematic and difficult to put a shower anyway.
To see more of these ideas in action, check out the full article here.
HomeThangs.com is not only a home improvement superstore, it also provides expert design tips and a comprehensive shopping guide, taking the ideas from professional interior designers, and offering tips to the consumers on how to pick the products to best suit their needs.