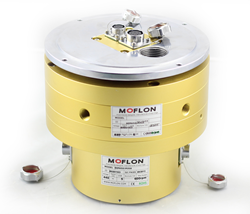 Shajing, ShenZhen, Guangdong (PRWEB) November 23, 2013
Moflon announced recently that after 6 months' R&D, the company has finally developed a groundbreaking large current slip ring that would enable its customers to handle high current of up to 7500A. The company terms it as a revolutionary product and that it would now help solve many problems that industries would be facing so far.
According to this Chinese company, they have been researching in this field for the last six months, after realizing its importance for various industries. They had set up a large budgetary layout for R&D, which finally enabled the company's scientists and engineers to achieve this breakthrough. Claiming to be the sole manufacturer of high current slip rings, they now have the capability of manufacturing these slip rings to help meet the industry demands.
Speaking about their innovation, the company spokesperson maintains, "Traditionally, high capacity slip rings are capable of handling current of 50A~2500A. But a current of 7500A is very huge and it's our remarkable product that will set a new benchmark in the industry." The company is very confident of getting huge orders from different industries from all parts of the world and they are gearing up to handle orders for the product with their increased manufacturing process.
"We already have queries for such type slip ring. In fact, these queries help us understand the need for such products in the industry. Following which the management decided to invest in the R&D work to develop a high current slip ring," the spokesperson states. The company maintains that they had to overcome numerous challenges in order to develop a slip ring that could bear such a large current. A series of tests has been conducted to make sure that the product can easily handle a high-capacity current. Thereafter, the product has been introduced in the market for the industrial use.
According to Moflon, like their all products, these large current slip rings too come with the guarantee of product reliability, and industries could be rest assured of achieving the best results from these slip rings. One can gain more knowledge about these newly introduced slip rings by visiting their website http://www.moflon.com.
About Moflon Technology Co. Limited
Moflon has been in the manufacturing of slip rings for more than 10 years, and they have been continuously innovating and bringing new and improved designs for the benefit of the industry. They are delivering their slip rings to different commercial and industrial sectors. Their slip rings are also used extensively in aerospace and military applications. All products are developed for high performance environments using improved materials and the latest technology.
For Media Inquiries –
Contact Person:
Telephone: +86-755-33582126
Fax: +86-755-33582125
Email: sales(at)moflon(dot)com
Website: http://www.moflon.com