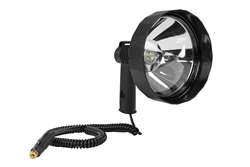 Kemp, Texas (PRWEB) November 24, 2016
Enjoy the convenience of shopping from home and take advantage of the company extending their no shipping charges offer from $100 or more to $50 or more. Starting November 24th through the 28th, any order that is placed online with a minimum of $50 spent, Larson Electronics will provide complimentary ground shipping. Take advantage of this limited time offer and make your dollar go further with Larson Electronics.
Along with free shipping on orders over $50, this year Larson Electronics is offering special buy deals. With an online purchase of the HL-85-CPR, you'll receive a free spare bulb. This 100 watt halogen spotlight features a lightweight design, ergonomic handling, and is the perfect lighting solution for the avid hunter in the family. An online purchase of the company's intrinsically safe LED flashlight will be shipped with a free holster. The newly released HL-85-LED-CPR will include a free tactical LED flashlight with an online purchase. The 10 million candlepower LED spotlight uses seven high output Cree LEDs and an advanced reflector and lens configuration to generate 3,200 lumens with a beam reaching over 1,600 feet while drawing only 36 watts of power. These are just a few of the sweet deals Larson Electronics is offering throughout this holiday weekend. Check out the company's website for other Black Friday and Cyber Monday savings deals!
Larson Electronics produces a full range of industrial and commercial lighting equipment, explosion proof extension cords, explosion proof plugs and receptacles, light towers, and LED work lights. To view Larson Electronics' entire line of industrial grade lighting solutions, visit them on the web at Larsonelectronics.com. You can also call 1-800-369-6671 to learn more about all of Larson Electronics' lighting products or call 1-214-616-6180 for international inquiries.