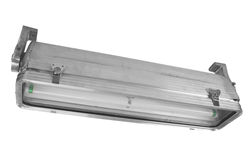 This hazardous location fluorescent light fixture is ideal for use in refineries, gas processing plants, waste treatment plants, and in chemical manufacturing applications
Kemp, Texas (PRWEB) April 19, 2016
The HAL-EMG-24-2L-T8-D hazardous area light fixture from Larson Electronics is a two foot, two lamp, UL listed Class 1 Division 2 Groups A, B, C, and D fluorescent light fixture that is constructed of copper free aluminum alloy and powder coated for corrosion resistance. This fixture is T4A temperature rated and comes standard with T8 fluorescent bulbs. Each T8 lamp in this hazardous location fixture produces 2,000 lumens while drawing only twenty-four watts of power. The bulbs are protected by a powder coated aluminum frame and shatter and heat resistant clear acrylic lens, secured by six zinc coated steel draw latches. The lamp reflector is corrosion resistant heavy gauge aluminum and coated with a high gloss reflective finish.
This fixture operates on 120 to 277 volts AC and is U.L. 595 and U.L. 1598A Marine Type approved for use in marine environments. The fixture incorporates a dimmable ballast box that adds emergency light functionality to the fixture. Once power is severed, the ballast box allows one lamp to operate for 90-minutes. When the power is restored, an internal charger re-energizes the battery. This fixture is can be surface mounted by two adjustable brackets and can also be pendant mounted, allowing the operator to mount the fixture via rigid pipe for suspended hanging. This fluorescent light fixture is weatherproof and provides operators in hazardous locations with a highly efficient, reliable and affordable lighting solution for open areas where flammable chemicals and vapors may occasionally be present.
"This hazardous location fluorescent light fixture is ideal for use in refineries, gas processing plants, waste treatment plants, and in chemical manufacturing applications," said Rob Bresnahan, CEO of Larson Electronics. "The included dimmable ballast allows operators to adjust the intensity of the light output to accommodate the work area."
Larson Electronics specializes in portable industrial lighting equipment, high mast light towers, explosion proof light fixtures, power distribution systems, LED lighting and more. To view their wide range of products, visit them on the web at Larsonelectronics.com or call 1-800-369-6671 for more information. Larson Electronics will be attending the 2016 OTC show in Houston, Texas from May 2nd to May 5th. Visit them at booth 6716 to inquire about their lighting solutions for many industrial applications.