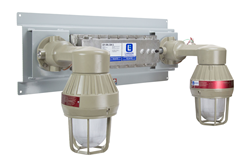 This new bug eye lighting system gives operators just enough light to assist in exiting a building when emergencies arise
Kemp, Texas (PRWEB) November 23, 2016
The EXP-EMG-25W-2L explosion proof bug eye lighting system from Larson Electronics is an ideal emergency lighting solution for hazardous locations where failsafe lighting reliability is a must. This unit is equipped with two 25 watt LED modules that produce 2,750 lumens each for a total lumen output of 5,500. Under normal conditions, this emergency system uses external power to illuminate the LED lamps. In the case of power outages or in situations where the external power is interrupted, the unit automatically switches to a battery backup which will power the unit for 90 minutes at 1500 lumens per lamp or until the power is restored. Once the power is restored, a built-in charger will return the backup battery to a fully charged state within 24 hours.
This explosion proof emergency lighting fixture carries an integral maintenance-free, sealed, high temperature Nickel-Cadmium battery backup power supply. When the external power is severed, the fixture automatically switches to its battery backup for 90 minutes. The battery is protected from deep discharge by solid state circuitry which senses low voltage and turns the unit off before battery damage can occur. The emergency light is universal voltage capable and can operate with voltages ranging from 120 to 240 volts AC. The unit's housing and LED light fixtures are constructed of copper-free aluminum that is epoxy power coated, providing protection for the aluminum surfaces.
"This new bug eye lighting system gives operators just enough light to assist in exiting a building when emergencies arise," said Rob Bresnahan, CEO of Larson Electronics. "As a manufacture, Larson can equip this unit with an exit sign or utilize other features that would make it more effective in a certain application."
Larson Electronics carries an extensive line of LED light towers, portable power distribution systems, explosion proof lights for hazardous locations, portable work lights and industrial grade LED area lights. You can view the company's entire line of lighting by visiting them on the web at LarsonElectronics.com. You can also call 1-800-369-6671 to learn more or call 1-214-616-6180 for international inquiries.