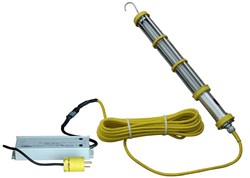 This Class 1 Division 1 & 2 explosion proof hand light produces a much sharper whiter light than that produced by incandescent lamps.
Kemp, TX (PRWEB) September 06, 2013
The EPL-FL1524-LED-X12-50 hazardous area LED work light from Larson Electronics is designed similarly to standard fluorescent work light, but provides higher quality light output and better reliability than standard incandescent and fluorescent work lights. Featuring a housing formed from non sparking aluminum with rubber bumper guards, high output LED tube lamp, and an impact resistant annealed glass tube shield, this LED work light is designed for high performance and reliability. This 15 watt work light produces more light than a 100 watt incandescent work light and more light than a standard 17 watt fluorescent lamp, yet runs cooler and uses less power. The LED tube in this lamp is rated for 50,000 hours of operational life, twice that of standard T8 fluorescents, and is highly resistant to the damaging effects of vibrations and dropping. The high output, even light distribution, and good color rendering of this lamp makes it ideal for inspection activities within paint booths or tanks and containers, and 50 feet of included cord provides ample length for moving about the work place. An aluminum hook located at the top of the housing provides a convenient hanging point for hands free operation as an area light. This LED drop light is also fitted with an inline transformer that drops 120-277 VAC current down to low voltage 12 VDC, making this work light also suitable for applications requiring low voltage operation. Approved for Class 1 Division 1 and Class 2 Division 2 locations, this explosion proof LED work light is an ideal alternative to hot running and less powerful incandescent and fluorescent work lights that meets requirements for safe operation in environments where hazardous flammable gases and vapors may be present.
"The EPL-FL1524-LED-120X12-C1D2-50 is the newest addition to our group of drop lights. This explosion proof trouble light gives operators the ability to step down 120/277 to 12VDC or 24VDC via the inline C1D2 transformer to provide low voltage where required," said Rob Bresnahan with Larson Electronics' LarsonElectronics.com. "This Class 1 Division 1 & 2 explosion proof hand light produces a much sharper whiter light than that produced by incandescent lamps. This handheld LED lamp is well suited to close work and inspection activities where good contrast and true color representation is needed."
Larson Electronics produces a wide range of LED droplights, explosion proof LED work lights, portable LED lights and LED paint spray booth lights. The entire Larson Electronics line of explosion proof lighting can be found on LarsonElectronics.com. You can also call 1-800-369-6671 to learn more or call 1-214-616-6180 for international inquires.