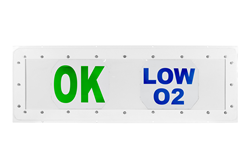 Kemp, Texas (PRWEB) October 03, 2016
The HALD-48-2X150LED-V2-C-OXM explosion proof LED warning light from Larson Electronics is a Class 1 Division 1 oxygen level warning light that is approved for use in hazardous environments where explosive and flammable gases, vapors, and dusts may exist. This hazardous light is designed for use in industrial environments where oxygen levels are monitored within the atmosphere and have the potential to fall below the OSHA recommended oxygen concentration within the work environment. This signal light is equipped with two 150 watt LED fixtures that indicate the status of oxygen levels within the environment. A green "OK" sign is illuminated by a single 150 watt LED on the left side to indicate that the oxygen levels are satisfactory. A blue "LOW O2" sign is illuminated on the right side to indicate that oxygen levels have reached an unsatisfactory level. This indicator light works in conjunction with existing oxygen level monitoring systems and is used to provide a visual indication of levels.
The integrated LED light fixtures are built within a copper free aluminum alloy body. These units have a special heat dissipating design which aids in premature LED failure. The unit is sealed and rated for Fs 209E and ISO 14644 cleanroom applications and is approved for use within clean rooms and other areas. The flat surface design makes it ideal for hose downs in clean room applications. This unit is weatherproof, dust-proof, and marine rated for wet environments. This warning light can be configured to work on 120 to 277 volts AC for use with standard line voltages or 12/24 volts DC for low voltage operation. Mounting is provided by a heavy gauge aluminum base with predrilled holes designed to be bolted to walls and flat surfaces for permanent and secure attachment. This hazardous area LED warning light is configured for green and blue output, offers exceptional lumen output, and a 50,000 hour life span.
"This new warning light is designed to be recess mounted and can be customized with different signs upon request," said Rob Bresnahan, CEO of Larson Electronics. "These new indicator lights expand the safety measures in hazardous work areas."
Larson Electronics carries an extensive line of LED light towers, portable power distribution systems, explosion proof lights, portable work lights and industrial grade LED area lights. You can view Larson Electronics' entire line of lighting by visiting them on the web at Larsonelectronics.com. You can also call 1-800-369-6671 to learn more or call 1-214-616-6180 for international inquiries.