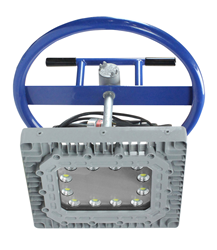 This new tank light offers excellent convenience and effectiveness with a 21" manhole mounting support bracket that eliminates the need for special mounting fixtures or cumbersome string light systems
Kemp, Texas (PRWEB) May 28, 2015
The MMLP-150LED-RT-12P temporary manhole mount LED light fixture from Larson Electronics provides operators with a powerful and highly convenient alternative to traditional string or tank lights. LED technology, an innovative 21" man-way support bracket, and compact design makes this lamp an excellent lighting solution for operators working within storage tanks and rail-cars. This Class 1 and 2, Division 1 and 2 tank mount explosion proof light fixture provides 13,000 lumens of high quality light while drawing only 150 watts of power. This explosion proof LED light is attached to a 21" supporting plate which allows the light fixture to hang down 12" inside the tank or railcar while the supporting plate rests on the lip of a man-way opening. This mounting provides an extremely versatile lighting option for those working in confined spaces such as rail cars, storage tanks, and other locations where entry is through a 21" man-hole opening.
This explosion proof LED light fixture is IP67 rated, dust-proof, and protected against high pressure jets and temporary submersion. The cast aluminum body and LED lamp give this light excellent durability and resistance to vibration and impacts. The housing is specially designed to dissipate heat which increases the efficiency and lifespan of the LEDs and electronics. The light features multiple LED drivers which help increase the operational life of the fixture. With traditional LED lights, in the event an LED array or driver fails, the entire unit no longer illuminates. This new series of lamps contains twelve individual LED boards configured in a series of banks. Each bank contains two boards with an individual driver. In the event of a driver failure, only one bank of LEDs will be affected while the other banks will continue to operate. In the event of an LED failure, the mating LED will continue to operate. This light is universal voltage capable and can be operated with 100-277 volts AC.
"This new tank light offers excellent convenience and effectiveness with a 21" manhole mounting support bracket that eliminates the need for special mounting fixtures or cumbersome string light systems," said Rob Bresnahan with Larsonelectronics.com.