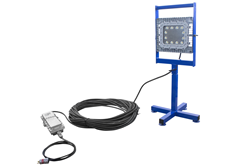 This 150 watt LED work light is equipped with a Class 1 Division 1 transformer and an explosion proof plug, providing operators with complete explosion proof protection
Kemp, Texas (PRWEB) March 30, 2016
The EPL-16BS-1X150LED-X24I-C1D1-200 portable explosion proof LED light from Larson Electronics provides operators with an easy to maneuver LED work light for use within hazardous locations. This portable unit is comprised of a 150 watt LED light head mounted to a base stand fabricated from non-sparking aluminum and operates on 120-277 volts AC which is stepped down to 24 volts DC with an inline explosion proof transformer.
The LED light head produces a brilliant flood pattern of light that is ideal for illuminating enclosed areas and hazardous locations where flammable vapors, gases and dusts may be present. The LED lamp head carries a T5 temperature rating and retains 80% of its lumen output after 60,000 hours of use. It produces 13,000 lumens of light while drawing only 150 watts of power.
The explosion proof LED lamp can be easily adjusted up or down 90° and locked into position by loosening the two hand screws located on each side of the light head. Once the light is in the desired position, the operator then tightens the screws back to set the position. The light frame assembly features a carrying handle for easy transport and a hand screw at the base, allowing operators to pivot the top frame assembly on the four leg base stand. Included with this portable LED light is two hundred feet of chemical and abrasion resistant SOOW cord leading up to the explosion proof step down transformer. Ten feet of 16/3 SOOW cable is on the input side of the transformer and is fitted with an explosion proof cord cap.
"This 150 watt LED work light is equipped with a Class 1 Division 1 transformer and an explosion proof plug, providing operators with complete explosion proof protection," said Rob Bresnahan, CEO of Larson Electronics. "This explosion proof LED light is lightweight, versatile, maintenance free and is ideal for use in tank cleaning operations and in other applications where a durable class rated fixture is required."
Larson Electronics specializes in portable industrial lighting equipment, high mast light towers, explosion proof light fixtures, power distribution systems, LED lighting and more. To view their wide range of products, visit them on the web at Larsonelectronics.com or call 1-800-369-6671 for more information. Larson Electronics will be attending the 2016 OTC show in Houston, Texas from May 2nd to May 5th. Visit them at booth 6716 to inquire about their lighting solutions for many industrial applications.