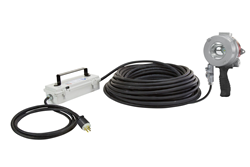 This new unit is ideal for tank cleaning inspections and other tedious work tasks that require on-the-spot lighting
Kemp, Texas (PRWEB) December 12, 2016
The EXHL-25W-V1-XLV-100 explosion proof handheld light from Larson Electronics produces 2,750 lumens of high-intensity light for illuminating within hazardous areas and potentially explosive work environments. This unit is Class 1 Division 1 rated and includes 100 feet of cord with an inline transformer for low voltage operation. Ten feet of chemical and abrasion resistant cord protrudes from one side of the transformer and is terminated in an optional cord cap for connection to common outlets. While the light itself is classified as explosion proof, the transformer and plug is not and should be used outside of the explosion proof work area. This unit includes 100 feet of chemical resistant cord to allow substantial maneuverability throughout a work area. This portable task light is rated NEMA Type 3, 4, 4X, 7 (B, C, D) and 9 (E, F, G) and designed to withstand the rigors of demanding environmental and operating conditions. These units can operate in temperatures of -40° Celsius to 60° Celsius, are waterproof to three meters, and resists ingress of dust, dirt, and humidity.
"This new unit is ideal for tank cleaning inspections and other tedious work tasks that require on-the-spot lighting," said Rob Bresnahan, CEO of Larson Electronics. "With its lightweight and compact design, this unit gives operators a portable lighting solution while maintaining explosion proof certifications."
Larson Electronics carries an extensive line of LED light towers, portable power distributions, explosion proof lights for hazardous locations, portable work lights and industrial grade LED area lights. You can view the company's entire line of lighting by visiting them on the web at Larsonelectronics.com. You can also call 1-800-369-6671 to learn more about their products or call 1-214-616-6180 for international inquiries.