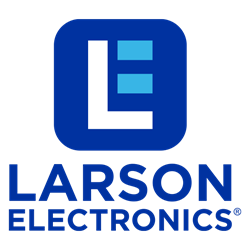 Larson produces rugged, dependable lighting that can withstand the pandemonium environment of a film stage
Kemp, Texas (PRWEB) April 05, 2016
With numerous appearances in films such as The Green Lantern, I Am Legend, Pacific Rim, and the newly released Batman vs Superman film, Larson Electronics' line of industrial grade lighting products have proven to be a popular choice among set designers. Production crews have chosen to use Larson's four foot and two foot explosion proof fluorescent light fixtures on the set of this new film, as well as the LEDLB-12ET high intensity LED light bar.
The EPL-48-2L is a four foot, two lamp fluorescent light fixture that is Class 1 Division 1 approved and carries a T6 temperature rating. The lamps in this fixture are protected by heat and impact resistant Pyrex tubes and the fixture is constructed of copper free aluminum alloy. The lamp reflectors are corrosion resistant heavy gauge aluminum and coated with a high gloss reflective finish. The EPL-24-2L fluorescent fixture carries the same ratings and constructed of the same durable materials as the four foot fixture, but measures only twenty seven inches long. Each fixture is available with optional lamps and includes two T8 lamps, two T5HO lamps, or two T12HO lamps. These fixtures are available with adjustable surface mount brackets and can also be purchased for pendant mounting. These fixtures provide operators in hazardous locations with a reliable and affordable solution that provides the best explosion proof protection available.
The LEDLB-12ET high intensity LED light bar produces 2,160 lumens of light output while drawing only 36 watts of power from a 12 volt electrical system. Twelve Edison Edixeon Emitters containing CREE EZBright three watt LEDs are paired with high purity optics to produce a tightly focused spot beam with limited spread. This LED light bar is IP68 rated and waterproof to three meters, sealed against intrusion by dust and dirt and ruggedly constructed to withstand demanding environments, conditions, and applications. It is constructed of extruded aluminum and features a durable housing, rubber isolated mounts and an unbreakable polycarbonate lens to provide increased durability against vibrations, impacts, hard rain, sand and high winds.
"Larson produces rugged, dependable lighting that can withstand the pandemonium environment of a film stage," said Rob Bresnahan, CEO of Larson Electronics. "We are excited to witness our line of high grade lighting equipment being used on set for the demanding detail and performance oriented environment of film making."
Larson Electronics specializes in portable industrial lighting equipment, high mast light towers, explosion proof light fixtures, power distribution systems, LED lighting and more. To view their wide range of products, visit them on the web at Larsonelectronics.com or call 1-800-369-6671 for more information. Larson Electronics will be attending the 2016 OTC show in Houston, Texas from May 2nd to May 5th. Visit them at booth 6716 to inquire about their lighting solutions for many industrial applications.