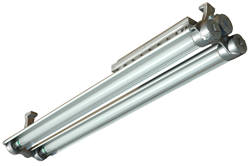 Because of the unique, rugged look of our explosion proof lights, they seem to be a popular choice among set designers of sci-fi and action movies
Kemp, Texas (PRWEB) August 04, 2016
Larson Electronics' line of industrial grade explosion proof lights and heavy duty spotlights continue to be a popular choice in cinematic productions with appearances in several big screen movies including Total Recall, Max Payne, Robocop and The Incredible Hulk. In the process of filming the season premiere of USA Network's new series "Falling Water", producers have chosen the EPL-48-2L to be featured in the new dreamscape thriller. The rugged design and high performance of these industrial grade lighting products have lent themselves well to the production of today's action and sci-fi thrillers.
The EPL-48-2L is an explosion proof fluorescent light fixture that is Class 1 Division 1 approved, carries a T6 temperature rating, and ideal for locations where flammable chemical or petrochemicals exist. The lamps in this unit are protected by heat and impact resistant Pyrex tubes and the fixture is constructed of copper free aluminum alloy. The lamp reflectors are corrosion resistant heavy gauge aluminum and coated with a high gloss reflective finish. This fixture is surface mounted with two adjustable brackets and can be pendant mounted as well. This fixture is multi-voltage capable and can operate on any voltage ranging from 120 to 277 volts AC.
"Because of the unique, rugged look of our explosion proof lights, they seem to be a popular choice among set designers of sci-fi and action movies," said Rob Bresnahan, CEO of Larson Electronics. "We take pride in bringing the latest advanced technology to the industry as well as the average customer."
Larson Electronics manufactures and distributes a full line of industrial and military grade LED lights and infrared and ultraviolet LED lighting equipment. Larson Electronics has also expanded by adding film and entertainment lighting categories to better serve the entertainment industries. To learn more about Larson Electronics lighting equipment, visit their website at Larsonelectronics.com or contact them at 1-800-369-6671 or 1-214-616-6180 for international inquiries.