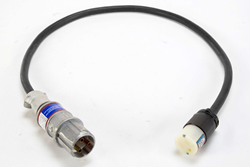 The cord provides versatile power capabilities in locations where straight blade plug receptacles are not available
Kemp, Texas (PRWEB) January 04, 2017
The EXC-3-15A-EPP-125V-2P extension power cord from Larson Electronics is constructed of 14-gauge, 3-conductor wire equipped with an explosion proof pin and sleeve male plug and a 5-15C general area straight blade female connector allowing operators to provide power to equipment within hazardous locations. This industrial use extension cord allows operators to connect equipment with a standard straight blade male plug and power it from a pin and sleeve outlet. This extension cord provides a safe and effective way for operators to power a variety of devices within a hazardous location with a hot permit for applications such as aircraft maintenance, chemical manufacturing, liquid processing plants, storage facilities, and wash down areas.
"This three foot power cord gives operators the ability to power equipment with a straight blade plug by a pin and sleeve connector," said Rob Bresnahan, CEO of Larson Electronics. "The cord provides versatile power capabilities in locations where straight blade plug receptacles are not available."
Larson Electronics produces a full range of industrial and commercial lighting equipment, explosion proof extension cords, explosion proof plugs and receptacles, light towers, and LED work lights. To view the entire Larson Electronics line of industrial grade lighting, you can visit them on the web at Larsonelectronics.com. You can also call 1-800-369-6671 to learn more about all of Larson Electronics' lighting products or call 1-214-616-6180 for international inquiries.