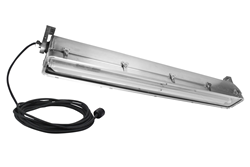 This hazardous location light fixture gives operators the ability to utilize readily available outlets in locations where hard wiring a fixture is not ideal
Kemp, Texas (PRWEB) January 26, 2016
The HAL-48-2L-LED-25C from Larson Electronics is a four foot, two lamp UL listed hazardous area LED light fixture that carries a T4A temperature rating and comes standard with 24 watt LED lamps. The lamps are protected by an aluminum framed shatter and heat resistant clear acrylic lens secured with ten draw latches. The fixture is constructed of copper free aluminum alloy. The lamp reflector is corrosion resistant heavy gauge aluminum and coated with a high gloss reflective finish. This fixture is weatherproof and provides operators in hazardous locations with a highly efficient, reliable and affordable lighting solution for open areas where flammable chemicals and vapors may occasionally be present. These fixtures are surface mounted by L brackets that are cinched to the pegs on each end of the light. The bracket itself is mounted with a single bolt hole at the top of the bracket. Once mounted, the light fixture can be removed from the brackets by loosening the cap screws that hold the bracket to the mounting peg. This fixture is multi-voltage and can be operated on voltages from 120 to 277 volts AC. This fixture is equipped with twenty-five feet of SOOW cord terminated in an optional cord cap. This fixture is UL 595 and UL 1598A Marine Type approved for use in marine environments.
"This hazardous location light fixture gives operators the ability to utilize readily available outlets in locations where hard wiring a fixture is not ideal," said Rob Bresnahan with Larsonelectronics.com.
Larson Electronics specializes in portable industrial lighting equipment, high mast light towers, explosion proof light fixtures, power distribution systems, LED lighting and more. To view their wide range of products, visit them on the web at Larsonelectronics.com or call 1-800-369-6671 for more information. Larson Electronics will be attending the 2016 OTC show in Houston, Texas from May 2nd to May 5th. Visit them at booth 6716 to inquire about their lighting solutions for many industrial applications.