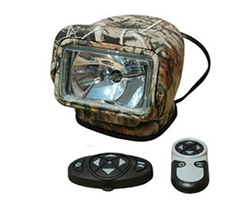 Kemp, Texas (PRWEB) May 08, 2015
The GL-3085H wireless remote control spotlight from Larson Electronic s produces a 3,000 lumen light beam capable of reaching over 5,000 feet in distance. This unit features remote control operation that allows users to rotate the light 370° with a hard stop and to adjust vertical tilt through 135°. Remote operation is provided by two wireless controllers, including one handheld portable remote and one dash mount remote that operates over a radio frequency of 433 MHz. Each remote includes an internal 12 volt battery rated at one year of operation and a single red LED to indicate remote control activity. The remotes have a range of up to 100' and will operate through walls, within structures, and in vehicles.
This camouflage spotlight is designed for hunting and demanding outdoor use with a weather resistant housing constructed of high quality ASA Luran thermoplastic that is heat resistant, impact resistant, UV resistant and able to withstand rugged use and abusive conditions. This light has a durable camouflage finish that helps it to bend in well with natural surroundings, making it ideal for hunting and military applications. This light is mounted using a detachable design with a separate permanent mount interlocking stainless steel mounting plate that is affixed to a surface. The mounting plate is attached with three screws through predrilled holes which secure the plate to the mounting surface. The light attaches to the mounting plate via an interlocking base bracket and a single machine screw secures the light to the mounting plate.
With numerous appearances in films such as The Green Lantern, The Dark Night Rises, I am Legend, and Pacific Rim, Larson Electronics' line of industrial grade lighting products have proven to be a popular choice among set designers and film production specialists due to their high performance and modern designs which lend themselves well to the production of today's action and sci-fi thrillers. To learn more about Larson Electronics lighting equipment, visit their website at Larsonelectronics.com or contact them at 1-800-369-6671 or 1-214-616-6180 for international inquiries.