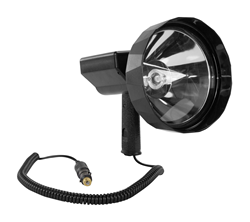 When your objective is to have the brightest spotlight around, this new handheld HID spotlight can't be beat
Kemp, Texas (PRWEB) March 24, 2016
The HL-85-HID-CPR handheld high intensity discharge spotlight from Larson Electronics is a lightweight, ultra rugged, ergonomic spotlight that operates on 12-24 volts DC with an included sixteen foot coil cord terminated in a cigarette plug. This high output HID spotlight is constructed with a single fifty-five watt HID lamp and features an advanced reflector and lens configuration to generate a 5,000 lumen light output. Drawing only 55 watts on a low voltage power source, this light produces a beam capable of reaching distances over 5,500 feet. An adjustable seven-inch lens gives operators the ability to switch from a long, narrow focused spot beam of light to a wide flood beam of light with just a simple twist.
This IP65 rated waterproof HID spotlight features an ultra-durable ABS shockproof polymer body, aluminum alloy light head housing, and an impact resistant polycarbonate lens. The unique shape and shallow contour of the seven inch reflector is paired with a convex lens and inset lens positioned to efficiently capture and project a focused beam of light while reducing light spillage. The pistol grip style, nylon handle has a no-slip textured surface to improve grip and has a conveniently placed push button so that the user can easily access the switch with the fore finger for quick on/off operation.
"When your objective is to have the brightest spotlight around, this new handheld HID spotlight can't be beat," said Rob Bresnahan, CEO of Larson Electronics. "The spotlight is equipped with a spring cord fitted with a cigarette lighter plug and is designed to operate with any 12-24 volt DC vehicle without any modifications."
Larson Electronics specializes in portable industrial lighting equipment, high mast light towers, explosion proof light fixtures, power distribution systems, LED lighting and more. To view their wide range of products, visit them on the web at Larsonelectronics.com or call 1-800-369-6671 for more information. Larson Electronics will be attending the 2016 OTC show in Houston, Texas from May 2nd to May 5th. Visit them at booth 6716 to inquire about their lighting solutions for many industrial applications.