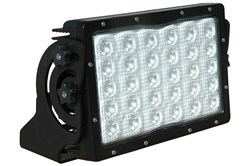 This LEDP5W-30-M-1227-20L6 LED light is designed for the most demanding environments. It is IP68 rated and can withstand dust, dirt, dampness and extreme vibration.
Kemp, TX (PRWEB) September 27, 2013
The LEDP5W-30-M-1227-20L6 magnetic LED light from Larson Electronics provides power and durability unmatched by standard incandescent and HID lighting in an easy to use magnetic mount fixture. This heavy duty LED light is designed for extreme conditions and features an IP68 rated waterproof housing designed to the resist ingress of dust, dirt and humidity and withstand extremes of environmental and operating conditions. This fixture contains CREE XLamp XPG® LEDs for maximum performance, built in electronic voltage and heat management controls, and is rated at 70% lumen maintenance after 50,000 hours of use. This light produces output comparable to 400 watt metal halide lamps, yet uses a fraction as much power, and has none of the fragile glass or wire filaments of incandescent lamps, making it much more resistant to the damaging effects of vibration and impacts. Total light output for this LED fixture is 14,790 lumens, and operators can choose between a 20 degree beam spread for a tighter and longer beam, and a 40 degree beam spread configuration for a wider beam covering more area closer to the fixture. This LED light also features an aluminum mounting frame with built in handle and two 200 lbs grip magnetic pads, allowing the lamp to be securely mounted to almost any ferrous metal surface. The aluminum frame provides easy carry and handling, and the lamp assembly can be adjusted vertically within the frame by simply loosening a pair of lock nuts on each side of the lamp. This magnetic mounting system is very strong and secure, helping to make these lamps ideal for use on mining machinery, heavy equipment, attaching to tank walls, and just about anywhere an easily mounted form of high power illumination is needed. This fixture runs natively on 10 to 32 volts DC, but is paired with an included waterproof step down transformer equipped with an L6-20 twist lock plug to allow connection to heavy duty 120-277 VAC receptacles commonly found in industrial and commercial operations. This magnetic mount LED light provides operators with an ideal alternative to fragile and hot running HID and incandescent work lights that lasts longer, runs cooler, and can withstand much more abusive conditions without any reduction in performance.
"This LEDP5W-30-M-1227-20L6 LED light is designed for the most demanding environments. It is IP68 rated and can withstand dust, dirt, dampness and extreme vibration," said Rob Bresnahan with Larson Electronics' LarsonElectronics.com. "This high intensity LED light is a highly durable alternative to 400 watt metal halide lights, features a versatile magnetic mounting system, and is equipped with a 20 foot cord terminated in a L6-20 twist lock connector."
Larson Electronics produces a wide range of high performance LED lights, explosion proof LED work lights, portable LED lights, LED trouble lights, and LED light towers. The entire Larson Electronics line of industrial grade lighting can be viewed by visiting LarsonElectronics.com. You can also call 1-800-369-6671 to learn more about all their lighting products or call 1-214-616-6180 for international inquires.