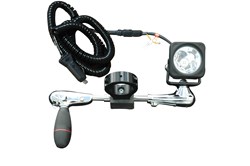 This adjustable LED spotlight provides intense spotlight beam illuminating over 650' in length with crisp white light.
Kemp, TX (PRWEB) November 13, 2013
The BCML-LEDP1X10WRE high intensity bar clamp mounted LED light from Larson Electronics is a powerful and rugged lighting solution for hunters and professionals seeking to add high output illumination to their ATVs and off road vehicles. This powerful LED spotlight features IP68 rated waterproof construction, a post style control handle with bar clamp mount, and a powerful LED emitter producing a tightly focused spot beam reaching 650 feet in length. This LED light looks and operates similar to the post style spotlights installed on police patrol vehicles, however, this spotlight is designed to mount to the rails and cages commonly found on ATVs and off road vehicles. Operators can mount this spotlight to a side rail simply by attaching the bar clamp and tightening it down, and while remaining within the ATV operate the lights' movement by moving the post mounted control handle. The lamp assembly also includes a trunnion mount that allows operators to adjust vertical placement of the lamp itself for better beam control. This LED light is ruggedly built with a housing formed from extruded aluminum and an unbreakable polycarbonate lens. It is sealed against water, dust and dirt, and can withstand temperature extremes of -40 degrees Celsius to 85 degrees Celsius. This light can operate on any voltage from 12 VDC to 32 VDC, and built in controllers manage voltage and heat to provide maximum output and a 50,000 hour operational life. The BCML-LEDP1X10WRE produces brighter and whiter light than comparable halogen spotlights, and because it is entirely solid state, can withstand impacts and vibrations that would cause a typical halogen spotlight to fail prematurely. This high output LED hunting spotlight is ideal for hunting, camping, offroading, and even military and law enforcement applications where a powerful and efficient spotlight capable of withstanding rough and abusive conditions is desired.
"This adjustable LED spotlight provides intense spotlight beam illuminating over 650' in length with crisp white light," said Robert Bresnahan with Larson Electronics LarsonElectronics.com. "With a low amp draw, 50,000 hour lamp life, impact and vibration resistance, and a versatile mounting system the BCML-LEDP1X10WRE is an ideal fit for all outdoor spotlighting applications."
Larson Electronics carries an extensive line of LED spotlights, LED hunting lights, portable work lights and industrial grade LED area lights. You can view Larson Electronics' entire line of lighting by visiting them on the web at LarsonElectronics.com. You can also call 1-800-369-6671 to learn more about all of Larson Electronics' lighting products or call 1-800-369-6671 for international inquires.