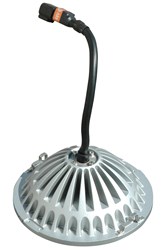 The versatility of this light is unmatched in the industry.
Kemp, Texas (PRWEB) November 25, 2013
Larson Electronics is excited to announce the reveal of their LED PAR 46 Replacement bulb. Bathing subjects in pure brilliant light and milspec rated for EMI, now there is no better choice for upgrading existing PAR 46 incandescent bulb fixtures to LEDs.
This Par46 LED bulb provides numerous benefits and advantages over traditional incandescent lamps in that it is highly resistant to damage from shocks and vibration as well as up to 80% more efficient. The LEDs in this unit have an average lifespan rating of 50,000 hours, which reduces the costs and loss of productivity associated with maintaining and replacing traditional lamps. Producing 3600 lumens while drawing only 4 amps, this LED lamp easily outperforms 100 watt incandescent bulbs while drawing only half as many amps. There is no glass or filaments used in the construction of this LEB bulb and the aluminum body and solid state design of the LEDs results in a lamp that is as rugged as it is efficient.
Also available are red, blue, green and amber versions, allowing operators to utilize these LEDs in equipment designed for emergency, signaling, warning and other applications. Colored versions of these lamps provide additional benefits over incandescent lamps because there are no colored filters or lenses used to produce colored light with these LED lamps. This lamp is also available in infrared 850 and 940.
"The versatility of this light is unmatched in the industry," Rob Bresnahan, with LarsonElectronics.com said. "Whether you need white light, colored, or infrared – you won't be disappointed by the power and efficiency of this unit."
Larson Electronics carries an extensive line of LED spotlights, LED hunting lights, colored LED lights, portable work lights and industrial grade LED area lights. You can view Larson Electronics' entire line of lighting by visiting them on the web at Larson Electronics.com. You can also call 1-800-369-6671 to learn more or call 1-903-498-3363 for international inquiries.