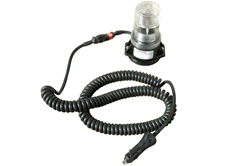 This LED strobe beacon provides excellent power and visibility in a very compact form.
Kemp, TX (PRWEB) June 11, 2014
The elephants at the sanctuary have been rescued from all over Peninsula Malaysia, providing them a safe sanctuary in the wild. The elephants at the sanctuary are not captured elephants, they are elephants that have been abandoned and at risk of harm in nature, therefore adopted by the sanctuary. The LEDB-4-M from Larson Electronics assists the keepers in the jungle with their wild elephant rescue operations. This LED beacon offers a choice of colors and is designed to provide a signal with a full 360° of visibility. This compact LED beacon contains an LED lamp assembly that produces 360° of brilliant light without the dark spots or unevenness of traditional incandescent beacon lights.
The unit contains three modules, each containing six LEDs that are specially mounted within a clear Fresnel lens to produce a full 360° of signal radiation when the unit is powered on. This unit is waterproof and shock resistant and produces a triple flash strobe pattern that makes it ideal for work, industrial, utility, and security applications. This LED beacon has a 100 pound grip magnetic base and includes a 16' straight cord that ends in a cigarette plug. The magnetic base provides secure placement on any surface that will accept a magnet and the inline switch and cigarette plug makes switching the unit from one vehicle to another simple and allows the user to toggle the light on and off without having to unplug it form the power source. Operators can mount this strobe to a vehicle and safely travel up to 35 miles per hour.
"I believe that the Elephant Sanctuary is doing a great thing and I am proud to donate to their rescuing efforts," Rob Bresnahan with Larsonelectronics.com said. "This LED strobe beacon provides excellent power and visibility in a very compact form."
Larson Electronics carries an extensive line of LED spotlights, LED hunting lights, colored LED lights, portable work lights and industrial grade LED area lights. You can view Larson Electronics' entire line of lighting by visiting them on the web at Larsonelectronics.com. You can also call 1-800-369-6671 to learn more or call 1-903-498-3363 for international inquiries.