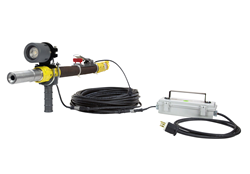 The polycarbonate handle design gives operators more control over the blasting gun when in operation.
Kemp, Texas (PRWEB) March 18, 2016
The BLG-LEDBLT-HGL-X24I work area blasting light from Larson Electronics features an 18 watt LED that produces 1,530 lumens of intense illumination that is designed for extreme durability in media blasting applications. This nozzle mount blasting gun light features a specially designed mounting system that allows the unit to be attached to the end of any standard blasting gun. The mount includes all of the necessary hardware and a protective lens cover that is used to brace the light to any standard blasting gun. The protective lens cover incorporates a simple drop in, drop out system behind a twist-on lens frame, allowing operators to twist the lens off and drop a new one in once damaged from particles. The lens for this unit is offered in polycarbonate or hardened glass material. The polycarbonate lens is ideal for metal blast materials, while the glass lens is for smaller abrasives.
This LED light's mounting system is designed to attach to the handle of a blasting gun, limiting the operators grip on the gun. Larson has incorporated a polycarbonate handle that is machined with deep groves to provide additional control over the blasting gun when in use. This LED blasting gun light operates on standard 120/277 volts AC which is then stepped down to 24 volts DC with an included inline transformer. The light is equipped with 100' of chemical and abrasion resistant cord leading up to an encapsulated step down transformer. On the input side of the transformer, a five foot cable is terminated in an industrial grade cord cap for easy connection to common wall receptacles.
"Larson's new LED blasting gun light offers high light output in a compact, lightweight form at an affordable price," said Rob Bresnahan, CEO of Larson Electronics. "The polycarbonate handle design gives operators more control over the blasting gun when in operation."
Larson Electronics specializes in portable industrial lighting equipment, high mast light towers, explosion proof light fixtures, power distribution systems, LED lighting and more. To view their wide range of products, visit them on the web at Larsonelectronics.com or call 1-800-369-6671 for more information. Larson Electronics will be attending the 2016 OTC show in Houston, Texas from May 2nd to May 5th. Visit them at booth 6716 to inquire about their lighting solutions for many industrial applications.