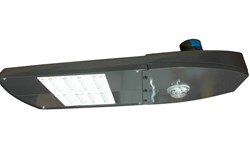 This LED cobra head street lamp provides longer lamp life and higher durability when compared to traditional halogen and HID lamps.
Kemp, TX (PRWEB) September 30, 2013
The RWL-LED-20 is a 48W LED Roadway Light from Larson Electronics provides a powerful and efficient alternative to standard high pressure sodium street lamps that offers far better light quality and durability combined with long lamp life. This high performance LED street light produces 4,200 lumen of clean white light output from only 48 watts of power. Unlike high pressure sodium lamps which require several minutes of warm up time and produce light with a distinctly orange colored tint, this light offers instant on operation and strong white colored light. The bright white output of this LED street light provides better color reproduction and contrasting, making it ideal for illuminating parking lots, campuses, military bases, industrial parks, and a residential streets. The housing is formed from rugged die cast aluminum that's been designed for efficient heat dissipation and polyester powder coated for superior resistance to the damaging effects of weather. This LED light is lightweight and contains feature designed to provide easier installation and servicing. A built in bubble level makes installation simple, a single trigger latch provides easy access to the internal components, and an adjustable mounting mast mount allows installation on masts from 1-1/4 to 2 inches in diameter. The finish on this LED street light has been tested to over 1,000 hours of exposure to salt fog, the fixture carries a 3G vibration rating, and a built in wildlife shield provides added protection and durability. This LED street light is an ideal alternative to HID lights that provides instant on operation, greatly improved durability, long 100,000 hour operational life, and reduced operating costs due to lower energy consumption and significantly reduced maintenance requirements, all while providing greatly improved the light color and quality .
"We have expanded out array of high output LED lighting products to include roadway LED light heads," said Robert Bresnahan of Larson Electronics LarsonElectronics.com. "This LED cobra head street lamp provides longer lamp life and higher durability when compared to traditional halogen and HID lamps."
Larson Electronics carries an extensive line of LED lights, LED work lights, LED light bars, intrinsically safe LED lights, LED blasting lights, and explosion proof LED lights. You can view Larson Electronics' full line of industrial grade lighting by visiting their website at LarsonElectronics.com. Larson Electronics can be reached directly by calling 1-800-369-6671 or 1-214-616-6180 for international inquiries.