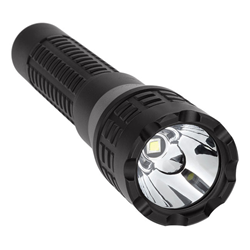 This multi-purpose LED flashlight is the ultimate in portability and offer a long runtime through the battery life and the lamp life
Kemp, Texas (PRWEB) August 11, 2016
The FL-LED-X2-DFX dual function LED flashlight from Larson Electronics uses a CREE® LED rated at 650 lumens in conjunction with a high-efficiency deep parabolic reflector to create a usable beam of light rated at 900 feet. A secondary floodlight is integrated in to the housing of the light producing a 200 lumen wide beam spread of light, making it ideal for close-up illumination. Constructed from aircraft-grade 6061-T6 aluminum with a Type III hard-anodized finish, this unit is watertight and able to withstand the rigors of aggressive and heavy duty use and applications.
The high intensity LED in this light produces 650 lumens of light in high mode, 250 lumens of light in medium mode, and 150 lumens of light in low mode. It has a lifetime of 50,000 hours, compared to the 50 hour average of an incandescent bulb. Two rubber push button switches provide easy operation while the contoured body design allows for maximum grip and control. The specially designed grip pattern provides secure handling, even in wet, oily and slippery conditions. Power for this light is provided by two CR-123 lithium primary batteries, giving this unit a runtime of up to six hours.
"This multipurpose LED flashlight is the ultimate in portability and offer a long runtime through the battery life and the lamp life," said Rob Bresnahan, CEO of Larson Electronics. "Made from tough aircraft-grade aluminum, this flashlight is a waterproof and shatterproof source of illumination."
Larson Electronics carries an extensive line of LED light towers, portable distribution panels, explosion proof lights for hazardous locations, portable work lights and industrial grade LED area lights. You can view Larson Electronics' entire line of lighting by visiting them on the web at Larsonelectronics.com. You can also call 1-800-369-6671 to learn more or call 1-214-616-6180 for international inquiries.