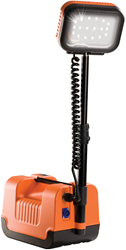 This lightweight, easy to deploy system is ideal for emergency situations, natural disaster areas, and other locations rated classified where external power is necessary
Kemp, Texas (PRWEB) May 20, 2016
The HAL-18LED-BP LED lighting system from Larson Electronics is Class 1 Division 2 ATEX rated for hazardous locations and provides operators with instant illumination in areas where an AC power supply is not accessible. The unit is constructed of polycarbonate and the LED lamp head is vibration and impact resistant. This explosion proof lighting system provides up to 1,500 lumens of high quality light in a compact, yet portable package. The 18 watt LED light comes in a 90 degree beam spread and operates on a 12 volt rechargeable nickel-metal hydride battery.
The battery in this remote area lighting system provides a five hour runtime on high mode and a ten hour runtime on low mode. The LED light unit is rated for 50,000 hours of lamp life while the battery is rated for up to 300 recharging cycles. This unit requires six hours of recharge time from a fully depleted state and a red low battery indicator light will illuminate when charging is required. This lighting system can be used as a handheld lantern or as a portable floodlight and reaches to a height of 32 inches when fully deployed.
"This lightweight, easy to deploy system is ideal for emergency situations, natural disaster areas, and other locations rated classified where external power is necessary," said Rob Bresnahan, CEO of Larson Electronics. "This unit requires approximately six hours of charge time and offers a ten hour runtime in low mode and a five hour runtime in high mode."
Larson Electronics carries an extensive line of LED light towers, portable power distributions, explosion proof lights for hazardous locations, portable work lights and industrial grade LED area lights. You can view Larson Electronics' entire line of lighting by visiting them on the web at Larsonelectronics.com. You can also call 1-800-369-6671 to learn more or call 1-214-616-6180 for international inquiries.