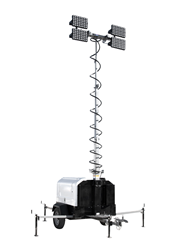 This new lighting package produces 240,000 lumens of intense, concentrated light while providing durable LED technology.
Kemp, Texas (PRWEB) June 17, 2016
The WCDE-4X500W-LED-MLK is a self-contained towable light tower that is equipped with a water cooled diesel engine powering an eight-kilowatt Marathon generator with an 11.7 horsepower Kubota engine which supplies the current to four, 500-watt LED lamps, producing 240,000 lumens of light. Each unit comes with 48 CREE high output LEDs producing 963 lumens each, arranged in rows and paired with high purity optics, capable of producing a wide spot beam. Each light is securely fastened to the light boom and each lamp includes a support bracket to help maintain lamp stability. The IP67 rated lamps are resistant to the ingress of dust, dirt, and humidity, as well as rapid temperature changes and rough environmental conditions.
The Marathon generator provides stand-alone power for the light tower and incorporates a 45 gallon fuel tank, allowing the engine to operate for up to 80 hours. All of the operating components are housed within a protective compartment with doors, providing easy access to the controls and generator system. The telescoping tower on this unit reaches 25 feet when fully deployed and folds down to a compact four and a half feet for storage and transportation. Hydraulic operation allows operators to easily raise, lower, or rotate the mast 359 degrees. Four stabilizing outriggers, located on each corner of the trailer, provide stability when the tower is fully deployed.
The entire unit is mounted on a two-wheel trailer with 13-inch wheels and a foldable tongue with a reversible two-inch ball coupling/pintle hitch. The reversible hitch consists of a standard two-inch ball coupling on one end and a three-inch pintle towing hitch on the other end. To switch ends, the operator unbolts the hitch attachment, flips it to the desired end, and reinserts the bolt. The trailer also features forklift pockets for easy loading and unloading of the unit.
"This towable, self-contained light tower is designed to withstand harsh outdoor conditions such as construction sites, mining fields, and in emergency services," said Rob Bresnahan, CEO of Larson Electronics. "This new lighting package produces 240,000 lumens of intense, concentrated light while providing durable LED technology."
Larson Electronics specializes in portable industrial lighting equipment, high mast light towers, explosion proof light fixtures, power distribution systems, LED lighting and more. To view their wide range of products, visit them on the web at Larsonelectronics.com or call 1-800-369-6671 for more information.