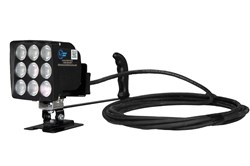 This unit personifies Larson's goal of combining durability with flexibility.
Kemp, Texas (PRWEB) January 10, 2014
Larson Electronics is pleased to reveal the new PML-90LED-SW 90 Watt LED Spotlight. This spot produces 8,100 lumens of intense bright light and offers the versatility 9-50V DC operation from a compact spotlight profile. This permanent mount LED spotlight is equipped with a rugged polycarbonate control handle and tension hinges that allow the unit to be easily adjusted and set into position and produces a powerful light beam reaching over 2,100 feet in length. The light beam from this unit in spot configuration is approximately 2100' long by 140' in width while an optional flood configuration covers an area approximately 1,200 feet long by 450 feet wide.
The four-inch square mounting base has four-corner bolt holes to keep the spotlight secured to the mounting surface under extreme vibration and off-road conditions. This unit includes a heavy-duty switch mounted on the light housing for on/off operations.
This series of LED light bars from Larson Electronics offers IP68 rated construction that is designed to withstand demanding environmental and operating conditions. These units can withstand frigid temperatures, are waterproof to three meters and resist ingress of dust, dirt and humidity. The housing on this unit is formed from cast aluminum, the control handle is solid polycarbonate and the lens is unbreakable polycarbonate. The Seoul Z-Power LEDs offer excellent resistance to shocks and vibrations and are rated at 70% lumen maintenance after 50,000 hours of use.
"This unit personifies Larson's goal of combining durability with flexibility," Rob Bresnahan, with Larsonelectronics.com said. "The adjusting hinges on this light are tensioned, allowing the user to simply position the light as desired without any need for locking the unit into place. Once positioned, the light will hold its position until the user again repositions it."
Larson Electronics carries an extensive line of LED spotlights, LED hunting lights, colored LED lights, portable work lights and industrial grade LED area lights. You can view Larson Electronics' entire line of lighting by visiting them on the web at larsonelectronics.com. You can also call 1-800-369-6671 to learn more or call 1-903-498-3363 for international inquiries.