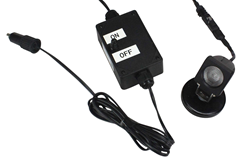 This LED light emitter is great for covert operations where space is limited on the vehicle.
Kemp, Texas (PRWEB) January 31, 2017
The LED10W-1SS-IR-DFR infrared LED light emitter from Larson Electronics offers high light output in a light weight, durable, compact two inch square unit. This light incorporates a single, high powered 3 watt LED emitter potted into an aircraft grade aluminum chassis that is designed to protect the LED and dissipate heat. This light emitter produces a 125 foot long by 25 foot wide spot light beam of light output in the 750NM, 850NM, or 940NM range while drawing only 3 watts of power from a 12 volt electrical system. This light is also available in a 35° flood beam producing a 45 foot long by 40 foot wide beam for a wider spread closer to the unit. This emitter is IP67 rated and waterproof to three meters, sealed against intrusion by dust and dirt and ruggedly constructed to withstand demanding environments and conditions.
This infrared strobing LED emitter includes a 100 pound grip base and anti-vibration bushing and adjustable positioning brackets, with a unit height of five inches. This infrared LED strobe light is available in either 12V DC or 24V DC configurations and is configured to flash fast two times followed by two slow flashes. (Dual flash rate). The light has a short pigtail terminated in a Deutsch connector. An included eight foot straight cord connects the light to the control box and another eight foot straight cord terminates in a cigarette plug. The control box features a three position toggle switch for on and off operation and beaconing mode. The rugged aluminum housing on this unit provides optimum durability and heat dissipation. These LED lights are certified to 6G RMS with vibration tests to ensure performance in high impact conditions.
"This new infrared light features a compact design that makes it possible to fit in smaller places that larger infrared light bars cannot," said Rob Bresnahan, CEO of Larson Electronics. "This LED light emitter is great for covert operations where space is limited on the vehicle."
Larson Electronics carries an extensive line of LED light towers, portable power distribution systems, explosion proof lights, portable work lights and industrial grade LED area lights. You can view Larson Electronics' entire line of lighting by visiting them on the web at Larsonelectronics.com. You can also call 1-800-369-6671 to learn more or call 1-214-616-6180 for international inquiries.