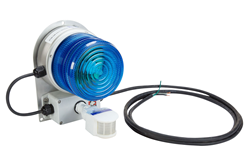 Kemp, Texas (PRWEB) March 10, 2017
The SLEDB-110V-MS LED strobe beacon from Larson Electronics works on 110-120 volts AC, offers a choice of several color outputs, and is equipped with an aluminum base. This compact, high powered beacon contains a lamp assembly that produces 360° of brilliant light without the dark spots or unevenness of traditional incandescent beacons. This flashing beacon draws .25 amps on 120 volts, produces a highly visible 16 joules flash, and is rated Class II, signifying the brightest intensity possible. A polycarbonate lens protects the LED assembly and the housing is waterproof, shock resistant, and built for reliable and durable operation.
This unit is designed to signal the strobe once motion is detected. Once the motion detection has stopped, the light will stop strobing. There is a time delay between the motion stopping and the strobe light stopping which can be adjusted by the operator. Available in a choice of red, amber, blue, white, or green, this strobing beacon is designed to be permanently mounted to a wall or other flat surface by the aluminum base predrilled with three holes for standard self-tapping screws. The included wiring harness simplifies connection to standard 110-120 volt AC power sources.
Larson Electronics carries an extensive line of LED light towers, portable power distributions, explosion proof lights for hazardous locations, portable work lights and industrial grade LED area lights. You can view Larson Electronics' entire line of lighting by visiting them on the web at Larsonelectronics.com. You can also call 1-800-369-6671 to learn more about their products or call 1-214-616-6180 for international inquiries.