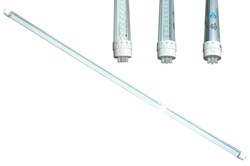 The flexibility of rotating pins makes this the ideal light for updating or replacing any fixture to LED.
Kemp, Texas (PRWEB) December 12, 2013
Larson Electronics has developed a new 18 watt LED tube lamp with rotating end caps to ensure optimal performance in upgrading standard fluorescent fixtures. When upgrading existing T8 fluorescent fixtures to LEDs, or direct replacement, the new Magnalight LEDT8-48-RP will ensure that you get the most light possible.
Until now, updating to LED lighting had become somewhat challenging in traditional fixtures because of the position or placement of the fixture's tombstones. With this innovative new design, each lamp features an adjustable base with 90 degrees of rotation, allowing the operator to position the lamp for optimal light output. Customers with 4 or 6 lamp fixtures could position each lamp to nearly double their current outputs with these unique new bulbs.
The LEDT8-48-RP produces 1850 lumens, works with T8 fluorescent light fixtures, is available in 4 foot lengths and requires no ballast to operate. The lightly frosted lens diffuses the light and makes this bulb ideal for food safe environments as there is no glass. The aluminum housing serves as a heat sink and provides rigidity and strength for this LED bulb.
LED light tubes can also be plugged directly into fluorescent light fixtures with magnetic ballasts, which make them an ideal upgrade for older T8 fluorescent lights with magnetic ballasts. In fluorescent light fixtures with electronic ballasts, the operator needs to bypass the ballast and wire the power directly to one or both ends of the LED tube (black wire to one end and white wire to the other). Thus, this is an ideal upgrade for 4 foot fixtures with failed ballasts. The multi-voltage LED fluorescent bulbs run directly off any voltage ranging from 100 volts to 277 volts AC.
"This lamp is so versatile that no matter what type of fixture you have, ballast or no ballast, it will work," Rob Bresnahan, with LarsonElectronics.com said. "The flexibility of rotating pins makes this the ideal light for updating or replacing any fixture to LED."
Larson Electronics carries an extensive line of LED spotlights, LED hunting lights, colored LED lights, portable work lights and industrial grade LED area lights. You can view Larson Electronics' entire line of lighting by visiting them on the web at Larsonelectronics.com. You can also call 1-800-369-6671 to learn more or call 1-903-498-3363 for international inquiries.