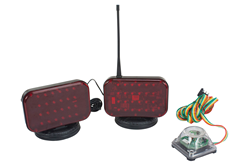 This set of hazard brake lights is 100% portable, waterproof and shock resistant.
Kemp, Texas (PRWEB) October 06, 2016
The HDTL-WLED-2X-M wireless battery powered LED tow lights from Larson Electronics are powered by eight 1.5V AA batteries and has stop, tail, turn and hazard strobe light capabilities. The units are housed within polycarbonate construction housings and the LEDs are encased within a polycarbonate lens. Each light features 24 high intensity LEDs to offer superior visibility and brightness during operation. The lights communicate with a transmitter that is terminated in a 4-pin trailer plug, delivering accurate operation of the wireless lights. The unit's LED lights maintain a constant bright and visible light without loss of color and can also serve as roadside hazard lights. The lights are attached to any metallic surface with a strong gripping force of the magnetic base, which is also secured to a pivoting bracket, allowing operators to adjust the lights vertically. The compact and light-weight form factor, durability, portability, and high power of these LED tow lights make it ideal for trailers, security, work areas, roadside emergencies, warehouses, and anywhere an easily assembled, highly visible tow or hazard light is required.
"The portability of this LED tow light lends itself to a wide range of applications including being mounted on trailers, RVs, boats, snowmobiles, and more," said Rob Bresnahan, CEO of Larson Electronics. "This set of hazard brake lights is 100% portable, waterproof and shock resistant."
Larson Electronics carries an extensive line of LED light towers, portable power distribution systems, explosion proof lights for hazardous locations, portable work lights and industrial grade LED area lights. You can view Larson Electronics' entire line of lighting by visiting them on the web at Larsonelectronics.com. You can also call 1-800-369-6671 to learn more or call 1-214-616-6180 for international inquiries.