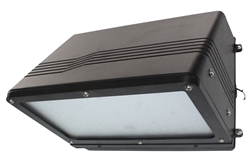 This new traditional style LED wall washer is an ideal replacement for 400 watt metal halide fixtures and provides up to 87% savings in energy and maintenance costs
Kemp, Texas (PRWEB) September 02, 2016
The LEDHWW-900 LED wall washer light from Larson Electronics offers high light output from a compact form factor and is designed to provide a more durable and long lived alternative to halogen and metal halide lights. This 90 watt LED light is designed to replace 400 watt metal halide fixtures and produces a wide flood beam without the high heat, fragile construction, or high energy costs of traditional lighting. This traditional wall washer fixture consists of an integrated LED assembly paired with a glass lens to produce a wide light distribution with an 8,100 lumen light output.
This fixture features a two piece hinged housing constructed of die cast aluminum alloy with an injected molded rubber gasket resembling traditional style wall washer fixtures. The two piece assembly allows for easy mounting and simplifies future servicing. It is designed to withstand demanding conditions, carries an IP65 waterproof rating, and built to resist the damaging effects of an outdoor environment. A ½" NPT knockout provides a secure and sealed power connection point and rounds out this unit's weather resistant construction. The traditional design of this LED wall washer light helps maintain building aesthetics when replacing existing fixtures.
"This new traditional style LED wall washer is an ideal replacement for 400 watt metal halide fixtures and provides up to 87% savings in energy and maintenance costs," said Rob Bresnahan, CEO of Larson Electronics.com. "It provides an efficient and highly durable alternative to standard metal halide fixtures while utilizing only a fraction of the power."
Larson Electronics carries an extensive line of LED light towers, portable power distributions, explosion proof lights for hazardous locations, portable work lights and industrial grade LED area lights. You can view Larson Electronics' entire line of lighting by visiting them on the web at Larsonelectronics.com. You can also call 1-800-369-6671 to learn more or call 1-214-616-6180 for international inquiries.