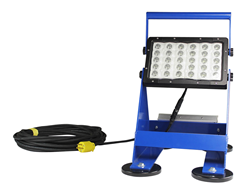 The heavy duty design and high power of these magnetically mounted work lights make them suitable for a wide array of applications
Kemp, Texas (PRWEB) February 25, 2015
The BML-150LED from Larson Electronics is a magnetically mounted LED work light that produces 14,790 lumens of high intensity light and includes an inline AC to DC transformer for easy connection to standard 110-277 volts AC. Thirty CREE XLamp five watt LEDs producing 493 lumens each are arranged in rows and paired with high purity optics to produce a well-focused 25° spot beam that is ideal for providing far reaching concentrated illumination. Weather proof and suitable for wet areas, this fixture is mounted within an aluminum frame equipped with an adjustable handle and magnetic foot pads that provide simple setup and easy carry transport. The mounting pedestal on this unit is constructed of aluminum and designed to allow users to place the unit on any flat surface for stable deployment as a pedestal light. The unit is equipped with four 200 lbs. grip magnetic feet, which provide a total of 800 lbs. of grip and allows operators to securely mount the unit to metallic surfaces such as tank walls or equipment for use as a temporary work light. The light housing and handle are adjustable and can be moved vertically by loosening two thumb bolts located on either side. This unit is lightweight and the aluminum frame and adjustable carry handle allows operators to transport the unit from one location to another as needed and adjust the handle to any position for better mounting versatility. Included with this unit is 25' of cord and a straight blade plug that provides simple connection to standard wall outlets.
"The heavy duty design and high power of these magnetically mounted work lights make them suitable for a wide array of applications," said Rob Bresnahan with Larsonelectronics.com. "These magnetic mount LED pedestal lights are a superior lighting solution where power, reliability and a versatile mounting solution is needed."
Larson Electronics carries an extensive line of LED lights, boat lights, intrinsically safe LED lights, LED blasting lights and explosion proof lights. You can view Larson Electronics' full line of industrial grade lighting by visiting their website at Larsonelectronics.com. Larson Electronics can be reached directly by calling 1-800-369-6671 or 1-214-616-6180 for international inquiries.