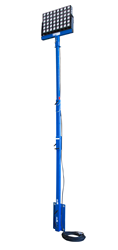 This new telescoping light pole is ideal for first responders needing a quick deployable light source that can be operated by a truck mounted generator
Kemp, Texas (PRWEB) January 17, 2017
The WAL-TPM-500LTL-LED portable LED light tower from Larson Electronics contains one LED light head that produces 60,000 lumens while using 500 watts of power.
This fixed mount aluminum light pole extends from seven feet to 13 feet and features an easily collapsible design for storage when not in use. The LED light head on this unit contains 48 CREE® Emitters that produce 1,350 lumens each combined with high purity optics to produce a well-focused 24° wide spot beam that is ideal for providing far reaching concentrated illumination.
The LED light head on this telescoping pole has an IP67 rated construction and designed to withstand demanding environmental and operating conditions. The seven to 12 foot adjustable pole mount features a pneumatic braking system that prevents the pole from suddenly collapsing, which ads in safety and security. This tower is equipped with 50 feet of 16/3 chemical and abrasion resistant SOOW cord that is fitted with an industrial grade cord cap for easy connection to common wall outlets. The easy deployment capability of this light tower makes it ideal for rapid deployment as a scene light for first responders to downed lines, main breaks, or accidents.
"This new telescoping light pole is ideal for first responders needing a quick deployable light source that can be operated by a truck mounted generator," said Rob Bresnahan, CEO of Larsonelectronics.com. "Featuring a removable light head and a collapsible design, this unit can be easily stored in a tool box or under seats for easy access."
Larson Electronics carries an extensive line of LED light towers, portable power distribution systems, explosion proof lights for hazardous locations, portable work lights and industrial grade LED area lights. You can view Larson Electronics' entire line of lighting by visiting them on the web at Larsonelectronics.com. You can also call 1-800-369-6671 to learn more or call 1-214-616-6180 for international inquiries.