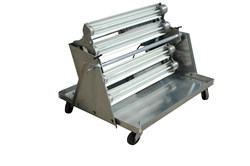 This wheeled cart enables operators to move a 75 pound paint spray booth light around easily and position it beside or even beneath the object they are painting.
Kemp, TX (PRWEB) September 17, 2013
The EPLC-24-4L Explosion Proof Fluorescent Light Cart from Larson Electronics is U.S./Canada U.L. approved Class 1 Division 1, Class 2 Division 1, and provides operators in hazardous locations with a powerful source of high quality illumination that can be easily maneuvered to wherever lighting is needed. This explosion proof light cart is designed to provide the same power and light quality as a standard fixed mount fluorescent fixture, but adds the mobility of a wheeled cart for added versatility. This light cart is ideal for paint booth applications where operators often need the ability to direct evenly distributed lighting onto irregularly shaped surfaces in order to obtain the finest finish possible. The two foot long fluorescent light fixture on this light cart is constructed from non sparking aluminum and features Pyrex tube covers, integral ballast assemblies, aluminum reflectors with high gloss finish, and screw on end caps for easy relamping. The four fluorescent tubes are T5-HO units that provide a total of 8,000 lumens of light output with a 5,000k color temperature, making them well suited to applications where color rendering and clear contrasting is critical. Larson Electronics also offers optional T8 and high output fluorescent lamps as well as well as LED upgrade options for this cart. The light cart is constructed from aluminum alloy with four solid non sparking wheels, and features a swiveling fixture mount that allows users to tilt the light fixture 270 degrees to obtain the best coverage regardless of angles. Larson Electronics also includes 50 feet of SOOW cord fitted with a straight blade explosion proof plug for ample length and safe connections. Also included is an inline explosion proof switch rated Class 1 Division 1 which allows operators to control operation while inside a hazardous area. The EPLC-24-4L is ideal for paint booths, aircraft service areas, refineries, and anywhere a highly maneuverable source of full power illumination that meets stringent HAZLOC regulations is needed.
"This wheeled cart enables operators to move a 75 pound paint spray booth light around easily and position it beside or even beneath the object they are painting," said Rob Bresnahan with Larson Electronics' LarsonElectronics.com. "The light fixture carries UL Class 1 and Class 2 ratings and a paint spray booth rating. Delivering up to 96 watts and 8,000 lumens, operators can deliver bright white light where they need it. Anti-static wheels, the aluminum cart and 50 foot SOOW cord with explosion proof plug make the fixture versatile and compliant as a hazardous location light fixture."
Larson Electronics offers a wide array of explosion proof lighting and hazardous location lighting, paint spray booth lights, explosion proof fluorescent lights and LED paint booth lights. Larson Electronics provides a full line of industrial grade lighting suitable for any size job or location and can custom tailor lighting to the specific needs of customers. You can learn more at LarsonElectronics.com or contact 1-800-369-6671 (1-903-498-3363 international).