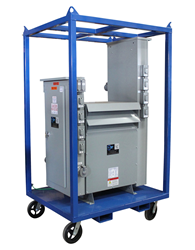 All of Larson's power distribution systems are constructed of steel and manufactured for heavy duty industrial use.
Kemp, Texas (PRWEB) January 07, 2016
Larson Electronics' new power distribution system includes a 300 amp main breaker with a 480 volt primary panel, a 75 KVA power transformer, and a 200 amp main breaker for the secondary panel. On the 480 volt primary side, operators can bring power in by four CAM LOK input male receptacles protected by the 300 amp main circuit breaker. Operators can power 480 volt devices from a choice of two 60 amp HBL460RS2W or four 30 amp L8-30R receptacles. On the secondary side, 120 volt devices can be powered by a choice of four 5-20, four L5-30 and four L6-20 receptacles. The 208Y devices are powered by two 60 amp HBL560RS1W outlets. These power transformers are popularly used in applications where external power sources are often necessary and work well in combination with explosion proof lights and equipment.
Unlike many portable power distribution boxes made of plastic and utilizing thin gauge, low grade materials in their construction, this unit is designed for serious use and is ruggedly constructed to withstand demanding conditions and heavy duty industrial applications. The transformer and load assembly is mounted on a 3/16" thick carbon steel platform and the load center/distribution assembly is mounted to the 2" by 2" by 1/8" thick square carbon steel tubing frame, resulting in an extremely stable and durable, well protected power distribution platform. The platform is equipped with forklift skid pockets, 8" locking polyurethane casters, and a top located lifting eyelet that allows for easy lifting with cable or chain hooks, all of which assists in transporting the unit from one location to another.
"This new power distribution system offers users multiple ports to power many devices at the same time," said Rob Bresnahan with Larsonelectronics.com. "All of Larson's power distribution systems are constructed of steel and manufactured for heavy duty industrial use."
Larson Electronics specializes in portable industrial lighting equipment, high mast light towers, explosion proof light fixtures, power distribution systems, LED lighting and more. To view their wide range of products, visit them on the web at Larsonelectronics.com or call 1-800-369-6671 for more information. Larson Electronics will be attending the 2016 OTC show in Houston, Texas from May 2nd to May 5th. Visit them at booth 6716 to inquire about their lighting solutions for many industrial applications.