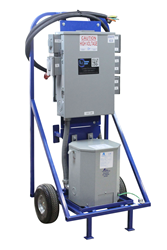 This system allows operators the ability to tap into 480 volts and operate 120/240 volt equipment.
Kemp, Texas (PRWEB) January 14, 2016
The MGL-10K-2X240.20A-2X120.20A portable power distribution system from Larson Electronics provides a safe and reliable way for operators in industrial settings to tap into and utilize power sources independently of the work area.
This system provides operators the ability to safely tap into and distribute 480 volts AC power from a variety of sources including generators and direct grid power. The transformer is designed to operate with 480 volts, single phase which is then stepped down to single phase 240 and 120 volts AC. Twenty feet of Type W line-in power cord is included to connect the substation to a primary 480 volt single phase power supply. On the primary side, a 30 amp fused disconnect provides protection for the 10KVA 480 to 120/240 volt single phase transformer.
On the secondary side, a 100 amp main breaker 120/240 volt panel provides protection for two 20 amp 120 volt 5-20 GFI outlets and two L6-20 receptacles. The transformer and distribution assembly is mounted to a standard steel dolly cart style frame resulting in an extremely stable, durable, and mobile power distribution platform. Two rubber tires and a cart style mounting platform provide easier substation mobility, and a center point lift eye allows easy lifting with cable or chain hooks. This power distribution system is NEMA 3R rated and ideal for many indoor and outdoor applications.
"This unit provides an effective power distribution system for operators performing plant turnarounds, maintenance and cleaning in hazardous areas, equipment installations and repairs, and other activities requiring an alternative to native power sources," said Rob Bresnahan with Larsonelectronics.com. "This system allows operators the ability to tap into 480 volts and operate 120/240 volt equipment."
Larson Electronics specializes in portable industrial lighting equipment, high mast light towers, explosion proof light fixtures, power distribution systems, LED lighting and more. To view their wide range of products, visit them on the web at Larsonelectronics.com or call 1-800-369-6671 for more information. Larson Electronics will be attending the 2016 OTC show in Houston, Texas from May 2nd to May 5th. Visit them at booth 6716 to inquire about their lighting solutions for many industrial applications.