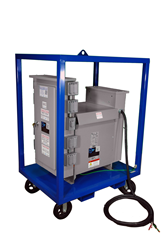 Larson Electronics manufacturers power distribution systems to customer standards and can custom fabricate a solution for many applications
Kemp, Texas (PRWEB) March 25, 2016
The MGS-480.2X30A.2X60A-10K-2X240-10X120 power distribution system from Larson Electronics provides a safe and effective way for operators in industrial settings to tap into and utilize power sources independently of the work area. This unit is designed to operate with 480 volts AC which is then stepped down to 120 volts AC single phase and 240 volts AC single phase. This transformer makes 120 volts available via ten GFCI protected 20 amp receptacles with weather proof covers and 240 volts available via two L6-30 receptacles with weatherproof covers.
This portable power distribution system also provides two 30 amp, 480 volt receptacles and two 60 amp, 480 volt receptacles for welding. On the primary side, a 250 amp main breaker 480 volt panel provides protection for the two 30 amp, two 60 amp receptacles and the 10 KVA transformer. On the secondary side, a 100 amp main breaker panel provides protection for the ten 20 amp 120 volt outlets and the two 30 amp 240 volt outlets.
This unit is designed and ruggedly constructed to withstand demanding conditions and heavy duty industrial applications. The transformer and distribution assembly is mounted onto a rugged, powder coated, carbon steel frame with integrated skid pockets and a top located lifting eyelet that allows for easy lifting with cable or chains. The transformer and load assembly is mounted on a 3/16" thick carbon steel mounting platform and the load center and distribution assembly is mounted to the 2" by 2" by 1/8" square carbon steel tubing frame. This power distribution system is often used in applications where external power sources are often necessary and is ideal for use in applications such as plant maintenance, construction sites, as a welding station, shows and exhibits and shipyard operations.
"Larson Electronics manufacturers power distribution systems to customer standards and can custom fabricate a solution for many applications," said Rob Bresnahan, CEO of Larson Electronics. "If this particular unit doesn't meet your requirements, please call us today and discuss those with one of our representatives."
Larson Electronics specializes in portable industrial lighting equipment, high mast light towers, explosion proof light fixtures, power distribution systems, LED lighting and more. To view their wide range of products, visit them on the web at Larsonelectronics.com or call 1-800-369-6671 for more information. Larson Electronics will be attending the 2016 OTC show in Houston, Texas from May 2nd to May 5th. Visit them at booth 6716 to inquire about their lighting solutions for many industrial applications.