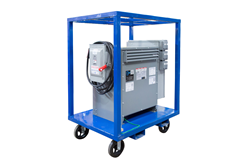 Larson Electronics customizes these power distribution systems to meet customer specifications
Kemp, Texas (PRWEB) October 05, 2016
The MPD-25KVA-480-10X120.20A from Larson Electronics is a temporary power distribution system that converts 480 volts AC 3-phase to 120 and 208Y volts AC three phase electrical current. This system provides operators the ability to safely tap into 480 volts AC and distribute 120 volts AC to equipment. This system has 25 feet of line-in cable to connect the substation to a primary 480 volt power supply. A 60-amp fused disconnect with two 60-amp time delay fuses provide primary line-in protection and supplies primary power to the 25 KVA transformer. The secondary current is wired to a 120/240, single phase 200-amp load center with main breaker for circuit protection. The 120 volt line-out protection is provided by ten 20-amp, 125 volt single pole breakers. This power distribution system makes 120 volts AC available through ten, 5-20R 20-amp GFCI protected duplex receptacles.
Unlike many portable power distribution boxes made of plastic and utilizing thin gauge, low grade metals in their construction, this unit is ruggedly constructed to withstand demanding conditions and heavy duty industrial applications. The transformer and load assembly is mounted on a 3/16" thick carbon steel mounting platform and the load center/distribution assembly is mounted to the standard 2" by 2" by 1/8" square carbon steel tubing frame, resulting in an extremely stable, durable and well protected power distribution platform. This cube style configuration is easy to move around the site and can be loaded easily on a truck or other conveyance with the distinctively placed pick eye on the center of the transformer or by the built in skid pockets.
"Larson Electronics customizes these power distribution systems to meet customer specifications," said Rob Bresnahan, CEO of Larson Electronics. "These distribution systems are ideal for indoor and outdoor use and applications such as construction sites, plant maintenance, shows, exhibits, and shipyard operations."
Larson Electronics carries an extensive line of LED light towers, portable power distribution systems, explosion proof lights for hazardous locations, portable work lights and industrial grade LED area lights. You can view Larson Electronics' entire line of lighting by visiting them on the web at Larsonelectronics.com. You can also call 1-800-369-6671 to learn more or call 1-214-616-6180 for international inquiries.