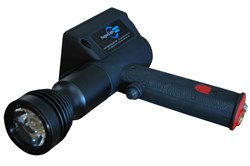 When it comes to durability and versatility, this is one of the best rechargeable spots on the market today
Kemp, TEXAS (PRWEB) December 16, 2013
Making the holidays merry and "bright" has never been easier thanks to Larson electronics. The Magnalight RL-85-10W1 LED Pistol Grip Spotlight makes the perfect holiday gift for anyone on your list.
The Magnalight RL-85-10W1 LED Pistol Grip Spotlight is an extremely rugged and effective spotlight designed to give users a powerful, durable and easy to use source of reliable light. This spotlight produces 800 lumens and a light beam approximately 800' long by 175' wide.
This light weight, 10 watt LED spotlight is ergonomically designed to produce a well balanced and easily managed handheld light source that can withstand abuse under tactical conditions. This light contains a single 10 watt LED rated at 120,000 hours of operational life which is paired with a patent pending reflector design to produce a light beam that reaches 800 feet in length and 175 feet in width. This beam is strong enough to allow operators to read signs, license plates, addresses and other similar markings at the far end of its total range.
Power for this spotlight is provided via an integral lithium ion battery pack for the highest reliability and durability possible. This unit charges in 2.5 hours and provides 5 hours of runtime when fully charged. Designed for durability, the handle is constructed of high impact nylon and an LED fully potted within a lamp assembly constructed of machined aluminum.
"When it comes to durability and versatility, this is one of the best rechargeable spots on the market today," Rob Bresnahan, with Larsonelectronics.com said. "Lightweight, rechargeable, and reliable, this will make someone on your shopping list very happy."
Larson Electronics carries an extensive line of LED spotlights, LED hunting lights, colored LED lights, portable work lights and industrial grade LED area lights that make great holiday gifts for friends and family. You can view Larson Electronics' entire line of lighting by visiting them on the web at Larsonelectronics.com. The last day to order to ensure Christmas delivery is Wednesday, December 18 for UPS Ground Shipping and Monday, December 23 for Next Day Air shipments. You can also call 1-800-369-6671 to learn more or call 1-903-498-3363 for international inquiries.