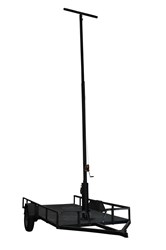 The LM-20 and LM-25 light masts have been very popular in the oilfields in Canada and the United States.
Kemp, TX (PRWEB) September 19, 2013
The LM-20-3S-TLR trailer mounted light tower from Larson Electronics provides a mobile and stable platform for elevating lighting equipment to heights up to 20 feet for effective coverage of large sites. This extendable light tower is constructed of powder coated steel for high strength and features a locking swivel base to allow operators to aim the lights in any direction needed regardless of the towers' positioning. The single axle trailer measures 11 feet long by 4 feet wide and provides easy hook up and go mobility as well as room for transporting any additional equipment that may be necessary for tower operation. The trailer has a 4 pin plug for the trailer lights, a receiving bracket that locks the tower in the folded down position for transport, and a standard 2 inch ball type receiver hitch. The light tower itself is a fold over extending design that can be extended to 20 feet when deployed, and collapsed to 9 feet and folded over for transport. The tower is raised into the upright position with an included hand winch, and then extended to the desired height using a second winch. The rotating base on the tower lets the operator rotate the entire tower towards the desired direction regardless of how the trailer is positioned. The top of the tower has a steel mounting bracket that provides a secure mounting platform for a variety of light fixtures, and Larson Electronics offers the option of equipping this tower with their own light fixtures including 1,000 or 1,500 watt metal halide fixtures , high power LED fixtures, and even HPS lamps as well. Larson Electronics also offers the option of outfitting this tower with electric winches for even easier operation. This heavy duty light tower is ideal for industrial operations and construction sites where high power illumination must not only be effective, but mobile as well, and provides a versatile platform that can withstand the rigors of demanding work conditions.
"The LM-20 and LM-25 light masts have been very popular in the oilfields in Canada and the United States," said Rob Bresnahan with Larson Electronics' LarsonElectronics.com. "We now offer the same high quality telescoping masts mounted to an eleven foot single axle trailer."
Larson Electronics produces a full range of industrial and commercial lighting equipment, LED light towers, metal halide light towers, tripod mounted lights, and portable work lights. To view the entire Larson Electronics line of industrial grade lighting solutions, visit them on the web at LarsonElectronics.com. You can also call 1-800-369-6671 to learn more about all of Larson Electronics' lighting products or call 1-214-616-6180 for international inquires.